From our sponsors: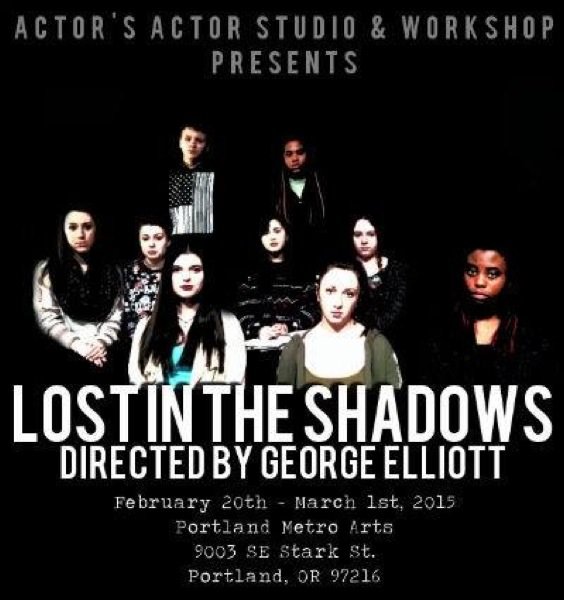 Lost in the Shadows
February 27-March 8, 2015
Friday – Saturday 7 p.m. | 2 p.m. Sunday
Tickets: brownpapertickets.com
Portland Metro Arts
9003 SE Stark St., Portland, OR 97216
"Lost in the Shadows" explores the dark world of human trafficking and the dangers it poses to the young men and women it consumes. The play follows the story of two young women from the local Portland area who were raised in middle to upper middle class homes and get caught up in teenage trafficking and prostitution. Click here to watch the trailer.
This original theatrical play, created in collaboration between studio owner and managing director George Elliott and his students, serves to promote dialogue between parents and their kids, teachers and students, and civic leaders and members of the community about the hidden dangers of running away from home and "life on the street."
According to a Portland State University Study released in August 2013, at least 469 children in the Portland area have been exploited in commercial sex trafficking during the last four years. The study also found that the average age of trafficking victims is 15.
Performances take place at Portland Metro Arts, located at 9003 Stark Street in Portland, and production dates are as follows:
Friday, February 27, 7 p.m.
Saturday, February 28, 7 p.m.
Sunday, March 1, 2 p.m.
Friday, March 6, 7 p.m.
Saturday, March 7, 7 p.m.
Sunday, March 8, 2 p.m.
The two-hour play is appropriate for young audiences from the ages of 12 and up.
There are eight characters in the play; five are between the ages of 12 and 18, and three are adults. The young performers are all members of the public and private schools in Portland, OR.
Lost In The Shadows trailer from Actor's Actor Studio & Workshop on Vimeo.
About Actor's Actor Studio & Workshop
The mission of the Actor's Actor Studio & Workshop is to help passionate and driven performers reach the outer limits of their potential while creating opportunities to connect with Northwest based directors, casting directors, and producers in search of new talent. Additional information can be found at: http://www.actorstudioworkshop.com/