From our sponsors: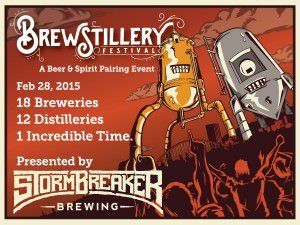 Brewstillery Festival
February 28, 2015
Noon – 10 p.m. | $20 ADV / $25 Doors | 21+
Tickets: stormbreakerbrewing.com
More info: Facebook
Stormbreaker Brewing
832 N Beech St, Portland, Oregon 97227
Join us on Portland's most awesome new festival, Brewstillery Festival.
Breweries and Distilleries teaming up to create the perfect pairings.
Advance tickets are now on sale for $20 ($25 day of event), which includes tasting glass and 10 tickets
18 Breweries: Stormbreaker Brewing, Amnesia Brewing, Baerlic Brewing Co., Base Camp Brewing Company, Breakside Brewery, Cascade Brewing, Coalition Brewing, The Commons Brewery, Deschutes Brewery Portland Public House, Ecliptic Brewing, Ex Novo, Hair of the Dog, Hopworks Urban Brewery, Humble Brewing, Laurelwood Public House & Brewery, Migration Brewing Company, Upright Brewing, Widmer Brothers Brewing
12 Distilleries: 4 Spirits, Bull Run Distillery, Big Bottom Whiskey, Clear Creek Distillery, Eastside Distilling, Indio Spirits Distillery & Tasting Room, Stein, Parliament, House Spirits Distillery, Dry Fly, Oregon Spirits Distillery, Stone Barn Brandy Works.