We are giving away a pair of tickets to Black Out Beer Fest @ Sidebar on February 20. To win, comment on this post why you'd like to attend. Winner will be drawn and emailed Friday, February 20.
FREE PORTLAND: We give out 100s of $$$ in free tickets every week including to many of the top music and art venues in Portland. Join our newsletter if you like free stuff!
———————————————
From our sponsors: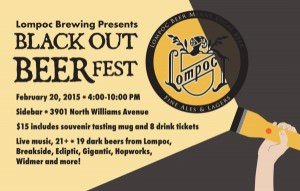 Black Out Beer Fest
February 20, 2015
4-10 p.m. | $15 | 21+
More info: lompocbrewing.com
Sidebar
3901 N Williams Ave, Portland
Lompoc Brewing will host its third annual Black Out Beer Fest on Friday, Feb. 20 from 4 to 10pm at Sidebar, 3901 N Williams Ave. The Black Out Beer Fest will feature 19 dark beers: four from Lompoc and the remaining 15 from other craft breweries. There will also be live music and food specials.
Tasting packages are required to drink the Black Out beers and cost $15, which includes a souvenir 15.5 oz glass tasting mug and 8 beer tickets. Additional tickets are available for $1 apiece. It costs four tickets for a full mug or $1 for a taste. Original mug and ticket sales take place in Sidebar. The Black Out Beer Fest will serve the beers in Sidebar and the tented and heated parking lot. There will also be live music by Copper & Coal. The event is for ages 21+.
The Black Out Beer Fest is a preview to the 9th annual Chowder Challenge, which will take place at the Fifth Quadrant on Feb. 21 from Noon to 4pm. The blind tasting competition pitsthe clam chowder from a dozen area restaurants and brewpubs against each other to determine who wins the coveted Chowder Cup. The event is a fundraiser for Portland's Community Transitional School, which provides important educational services to children who are homeless or otherwise at risk of school failure.
BEER LINEUP

Alameda Siberian Bear Russian Imperial Stout: Russian Imperial Stouts were originally brewed by English breweries for export to the Russian Tzars. Higher in strength and bitterness than ordinary stouts, they were meant to travel and be consumed during the cold winters. This version was brewed with a small amount of peat smoked malt lending a smokey, scotch-like flavor to this ale. Blacker than night, roasty, smokey and strong, this is the perfect beer to black out on. 11% ABV
Breakside Salted Caramel Stout: A collaboration with Salt & Straw Ice Cream, this has been one of Breakside's most popular beers over the past few years. The base beer is a full-bodied stout, with sea salt and a specially made caramel added to the wort before fermentation. The finished beer is rich and balanced with a luscious caramel flavor in the aroma and mid-palate, a hint of salt in the finish, and a smooth, rich roast character. 7.9% ABV
Buoy Beer Co Swarzbier: Buoy's take on this traditional German lager features medium-bodied and malt accented without the strong roasted character found in most dark ales. 5.1% ABV
Burnside Red Light District: A stout brewed with chocolate and strawberries aged in rum barrels. 8.5% ABV
Cascade Dark Day CDA: Cascade's tribute to the shortest days of the year, this citrusy-resinous, hop forward, malty Cascadian Dark Ale was brewed with roasted cacao nibs and a healthy dose of Brewer's Gold, Centennial, Cascade and Amarillo hops. If you're looking for a hoppy, spicy, chocolaty ale with a smooth, black malt character and gripping hop bitterness, you've found your cure. 6.0% ABV
Ecliptic OORT Imperial Stout: Named after the mysterious region of our solar system that breeds comets, OORT is as black as the vacuum of space. Loads of roasted barley and chocolate malts combine with three types of caramel malts for a rich, full, roasty mouthfeel. Chinook, Cascade and Sterling hops lends a balanced bitterness and subtle hop flavor. This beer is thick and chewy and has been aging since June. 8.5 % ABV
Fort George

Tuesday's

Lunch Stout: A smooth, well balanced stout made with all the fixin's for your PB&J Sammy. Brewed with roasted Spanish peanuts and blackberries, this beer will definitely pack your lunchbox. 9.3% ABV
Gigantic Saboteur Baltic Porter: It's like Porter but with more! Richly chocolaty and roasty, with a smooth alcoholic warmth, Saboteur tastes a lot better than a machine broken by a shoe. 8% ABV
Hopworks Motherland Russian Imperial Stout: As dark as a moonless Siberian winter's night, but warming enough to weather it. Bittersweet chocolate flavors mingle with deep fig and plum fruitiness. A gentle heat and spiciness linger long on the palate, leaving you craving more of the sweet warmth of the Motherland. 9.8% ABV
Lompoc Batch 69 Baltic Porter: This strong dark beer has hints of chocolate and black licorice. It was brewed with a lager yeast giving it a much cleaner smoother finish than a traditional porter.
Lompoc 2013 Bourbon Barrel Aged Dark Side Porter: A robust, dark porter with hints of toffee and soft roastiness in the nose balanced with flavors of rich chocolate and toasted nuts, aged for 10 months in Bourbon barrels. 6.4% ABV
Lompoc Jitterbrew Stout: A light-bodied stout that has a chocolate malt base. The brewers added six lbs of Tarrazu Santa Ekna coffee from Ristretto Roasters to the kettle and dry-hopped it with eight lbs of orange peel to create an Orange Mocha Frappuccino beer. 6.6% ABV
Lompoc Cheval de Trait Belge: Named in honor of Belgian work horses, which are one of the strongest breeds of horses, this dark Belgian strong ale has a malty body finishing dry with notes of chocolate and tobacco. 8.5 % ABV
Lucky Lab Accidentally Iced Porter: An old favorite with a new twist, Lucky Lab took a Stumptown Porter that was over-refrigerated and froze. This resulted in a fair portion of water removed. The sweetness of the porter blends with the extra kick for a subtle, smooth finish. 8.5% ABV
pFriem Oatmeal Stout: This creamy stout with notes of hazelnut and chocolate was inspired by pFriem brewer Dave McGinley. Oatmeal has been a long time favorite brewing ingredient since King Arthur's time and once you savor the rich smoothness you'll understand why! 5.5% ABV
The Commons Putin from the Wood: A Baltic Porter aged in Bourbon Barrels with Brettanomyces Bruxellensis. 8.0% ABV
Three Creeks Tenpine Double Chocolate Porter: A chocoholic's dream! This amped up version of the brewery's popular Fivepine Chocolate Porter features double the chocolate malt, and double the dark Belgian chocolate in the boil; it's then aged on organic cacao nibs in the brite tank. A true dessert beer with a full body and intense chocolate flavor. 8.4% ABV
Upright Oyster Stout: Formerly an annual bottled seasonal, this is now a draft-only brew. The beer uses a robust bittersweet stout base and adds dozens of whole oysters plus gallons of "juice," making the beer nearly 3% by volume oyster liquor. While it may sound strange, the result is a satiating beer with a complex flavor and finish, showing strong minerality. 5.8% ABV
Widmer KGB Russian Imperial Stout: Using roasted barley, chocolate malt and

Midnight

Wheat, KGB has a color that is as dark as a torrid past, a body as full as a well-kept dossier, and a taste as complex as a conspiracy theory. 9.3% ABV