From our sponsors: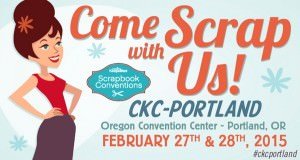 2015 Creating Keepsakes Scrapbook Convention
February 27-28, 2015
More info: http://bit.ly/PDXPipeline15
Oregon Convention Center
777 Northeast Martin Luther King Junior Boulevard, Portland, OR 97232
(503) 235-7575
For the 16th consecutive year, Creating Keepsakes returns to Portland to host their annual scrapbook convention April 11-12, this year at the Oregon Convention Center. This event frequently referred to as simply CKC-Portland is a weekend full of creativity and fun that includes education, shopping, and crafting.
This year the technique classes are better than ever – here's a sneak peek into what you'll find when you take a CKC class!
"First Class Travel Album" Class
Live the life you love and love the life you live. This is an ongoing mantra in this year's travel themed Album class taught by Creating Keepsakes Events. This four-hour class brings you a beautiful 12" x 12" album, with the newest products & techniques from various brands. Attendees will be eligible to win great prizes and have a wonderful experience learning techniques including faux letterpress, photo slide outs, embossing, stamping, overlays and more.
"True Colors with My Mind's Eye" Class
Immerse yourself in the world of color and learn the basics of color theory, how to use a color wheel, and basic principles of color harmony. Pretty pastels for spring, bright and bold for summer, rich jewel tones for fall, holidays bring us a splash of metallics sure to impress even the most discerning of tastes. Let's not forget the Neutral and monochromatic color families. In this 1 ½ hour class you will receive all of the product to create five 12″ x 12″ pages using four different color harmonies with NEW product featured by My Mind's Eye and Teresa Collins Designs.
"Quick & Sassy Pocket Pages" Class
Pocket pages are popping up all around, with their simple style yet classic look it's the perfect way to scrapbook. In this Quick & Sassy Pocket Pages class you will learn the art of turning pocket pages into "WoW" pages with cool designs from We R Memory Keepers and the artistic styling of designer Nicole Harper. Whether you are looking to dabble into this new delectable art or a seasoned pro, this class is for you! . Pocket page scrapbooking can be as simple or as elaborate as you wish to make it!
Now that we have your creative curiosity flowing, come check out what additional fun is in store at CKC-Portland! For a complete list of classes, details, and pricing visit the CKC-Portland webpage. Register for classes online before February 23rd to save on tickets with pre-event pricing! See you there!