From our sponsors: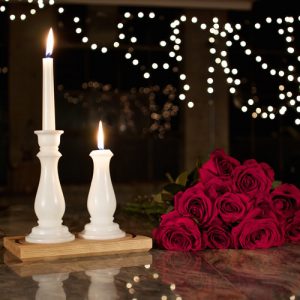 Madison Candle Valentine's Special
$99 for 2 candles, dozen roses and drip tray
Order Online for pickup Feb 12 & 13th: revolutiondesignhouse.com/
Revolution Design House Workshop
911 SE Salmon, Portland, OR
Valentine's Special includes two Madison candles, one drip tray in either Walnut or Ash, and one dozen red roses.
The Madison Candle is our new, innovative candle that combines a wax candlestick holder and a taper candle into one 18 hour burn candle. The whole form is made of cast wax and burns top to bottom for long lasting enjoyment. Made in the Revolution Design House workshop
One dozen red roses, the classic Valentine's gift.
Drip Tray made from solid hardwood (Walnut or Ash), these simple trays elevate your candles while protecting your favorite piece of furniture from dripping wax.
Very limited availability. Order online now for local pickup Thursday February 12, Friday February 13, or by appointment. No shipping available. The added bonus for this package is the opportunity to visit the, always busy, Revolution Design House workshop in SE Portland. 911 SE Salmon.