From our sponsors: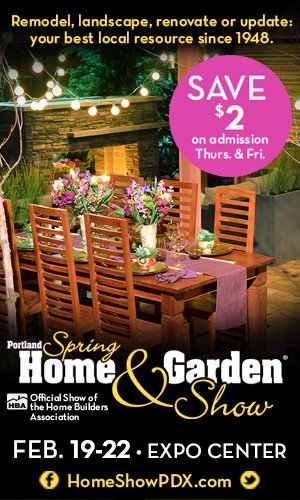 Portland Spring Home & Garden Show 2015
February 19-22, 2015
Thursday – Friday 11 a.m. – 8 p.m.
Saturday 10 a.m. 8 p.m.
Sunday 10 p.m. – 6 p.m.
$10 | All Ages
More info + Coupons: homeshowpdx.com
Portland Expo
2060 North Marine Drive
Off I-5, take the "Delta Park" exit
Take the MAX Yellow Line to Expo
If it's February then it's time for the annual Portland Home & Garden Show! For the past 68 years the show has drawn thousands of attendees with ideas, plans and dreams – seeking the experts and purveyors to make their projects come to life. The Portland Home & Garden Show is also packed with garden supplies, accessories, outdoor art and of course plenty of gardening gurus. Be sure to tour the expanded Excellence in Landscaping garden displays – returning to the front of Hall "E" of the Expo Center now with several small home displays! Plus visit with hundreds of outstanding vendors and retailers – this is undoubtedly the show of choice for homeowners and gardeners alike.
Each year the most anticipated feature of the Portland Home & Garden Show is the Excellence in Landscaping area! Last year we moved the garden feature to the front of Hall E – with new designers, a new emphasis on plant material and flowers, along with new lighting effects and staging and it was an enormous hit. It's going to be fabulous this year! The 14 amazing gardens are created to tempt homeowners and those with a green thumb with the scents and warmth of spring. Discover new garden designs and themes and view the latest color trends, stunning rock work and of course plants of special interest. Plus this year we have three tiny homes to tour and see! No matter what your taste or interest in gardens or landscape design, you'll find a garden teeming with inspiring ideas for your own home or project. This is a great place to find a landscape designer or installer (contractor) to transform your backyard into a comfy retreat or pleasant nook.
The Original Plant Sale beckons the return of spring! The annual Plant Sale will have plenty of first-class nurseries participating – providing the ultimate in spring inspiration and ideas. You'll find a huge selection of plants including: shrubs, grasses, perennials, trees, bulbs and plants of special interest and so much more all in one place. Get started in creating your dream backyard, by coming to the Plant Sale!
Who doesn't love the beauty of orchids? Come see them blooming in all their glory within the The Portland Orchid Society displays. It's a show within a show! For those enchanted by these astonishing flowers, you can find an incredible array of orchids on display and for sale at the show. Bring your camera because the displays are gorgeous and awards will be presented!
Home Depot – returns to the show with new workshops! The experts at Home Depot will create great workshops for the do-it-yourselfers and home owners wanting to get projects launched. The Free Workshops are on-going and perfect for those interested in home maintenance, home painting, and flooring options. The huge workshop area will also feature a complete At Home Services Department, with the ability to go over siding, decking, roofing, as well as, gardening, plant material, power garden tools, installations, and energy saving appliances and other needs.
Another popular and growing part of the Portland Home & Garden Show is the Artisan and Crafts Area. Each year, we search for great artists, sculptors, painters and more. You can even watch amazing works of art created before your eyes, or take home the perfect work of art! This is one of our most anticipated features each year.
Finally, the Northwest Independent Writers Association will be back at the show presenting dozens of local authors all in one great area. This year's theme is "Growing Your Home Library," and you'll be able to peruse dozens of great books in a comfy area with couches and bookcases. Additionally, Jacobson's Book Store out of Hillsboro will have a great selection of books on gardening, décor inspiration, DIY and just about anything to get you thinking about your home.
Parking: FREE After 4pm Thursday and Friday only! Save $8!