From our sponsors: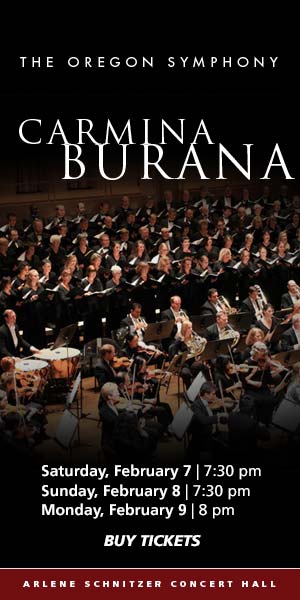 Carmina Burana
$22-$99
Saturday, February 7 | 7:30 pm | Tickets
Sunday, February 8 | 7:30 pm | Tickets
Monday, February 9 | 8 pm | Tickets
Arlene Schnitzer Concert Hall
1037 SW Broadway, Portland, Oregon 97205
More info: orsymphony.org
Don't miss Orff's monumental work for orchestra, chorus and soloists—246 musicians on stage in all! With its earth-shaking sound and powerful rhythms, it's an awe-inspiring experience, a celebration of all that's lusty and luscious in life. It's the biggest musical event of the season!
Carlos Kalmar, conductor
Portland Symphonic Choir
Pacific Youth Choir