From our sponsors: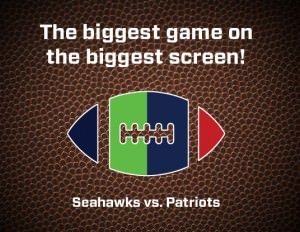 The Big Game At OMSI
February 1, 2015
Doors 3:20 p.m / Kick Off @ 3:30 p.m. | Free | All Ages
More info: omsi.edu
Oregon Museum of Science and Industry
1945 Southeast Water Avenue, Portland, OR 97214
(503) 797-4000
Watch the biggest football game of the year on the biggest screen around!
Join us as we watch the Seattle Seahawks tackle the New England Patriots in a larger-than-life showing at the Empirical Theater! In honor of the most eagerly-awaited football event of the season, we're presenting the big game like never before—four-stories tall with stadium seating and unparalleled Dolby sound. Or, if you prefer a cozier setting complete with fireplace, catch the game in our restaurant, Theory. Either way, come enjoy a family-friendly atmosphere with fun for all!
A wide assortment of refreshments, including beer and wine, will be available for purchase. Please no outside food or drink. Seating is on a first-come, first-serve basis.
It'll also be $2 Sunday, so anyone is welcome to come explore the museum for only $2!