From our sponsors: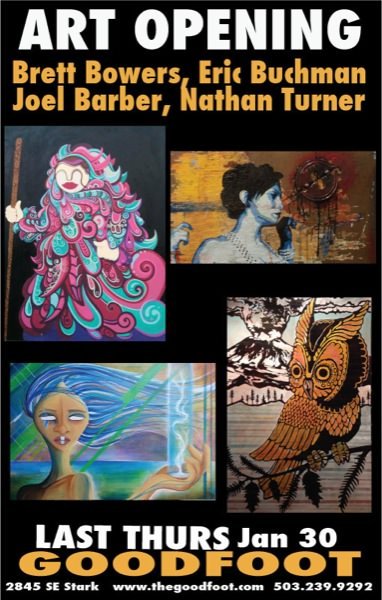 Last Thursday Art Opening
January 29, 2015
5 p.m. | Free | 21+
More info: thegoodfoot.com
The Goodfoot
2845 SE Stark St, Portland, OR 97214
(503) 239-9292
Goodfoot will have an art opening on Thurs Jan 29th, from 5pm – 2am. The show will be up until Feb 24th. This months artists are Hunter Armstrong, Lisa Wilde, Matthew Hopkins and Todd Hinchman.
Hunter Armstrong has been living, making, and selling art in Portland, Oregon since 2006. Combining Graffiti, Cartoon, and Urban elements in his art, he creates a world all his own. Deep, rich landscapes are home to cute, creepy, unique, illustrative characters.

Lisa Wilde is a native Oregonian known for her use of bright exciting colors and tattoo style esthetic in her acrylic and ink paintings. Her work reflects her love for all that is from the sea; mermaids, fish, shells and scales while having a slight edge of sugar skulls and skeletons rendered in vibrant exaggerated colors, with playful lines and texture that impart a warm and inviting energy to her work.

Matthew Hopkins. I am an artist and storyteller. All the work I create has a narrative to it, and every piece has a story to tell. I always wanted to know why something came about or what's it's meaning was. To create, I play, and my imagination keeps me guessing. I never know what kind of creatures are going to spring from the world of Nightmerriment.

Todd Hinchman. I was born and raised in Indianapolis, Indiana. I've lived in Portland over fifteen years. I've always been into art on various levels. Not until I started creating the bearded guy have I finally come onto something that I can call my own. Sometimes he is basically a self portrait. Other times he is a vessel for communicating a thought, observation or any simple idea.