From our sponsors: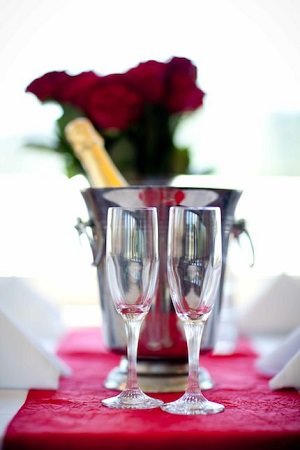 Valentine's Day Dinner Cruise
February 13 & 14 2015
$99 Per Person | Boarding begins 6:30 p.m. / Cruise 7-9:30 p.m.
Tickets: portlandspirit.com
Salmon Springs Fountain
SW Naito Parkway & Salmon St.
Enjoy spectacular river views of the Portland skyline, live music and a fantastic four course meal
This romantic evening includes
Cruise on the Willamette River
River views of the Portland skyline
Gourmet four course dinner
Live entertainment on the Portland Spirit from The Bylines
The Portland Spirit will board from downtown Portland at Salmon Springs dock beginning and 6:30pm and cruise from 7-9:30pm.
The Bylines are a husband and wife duo offer a unique pop confection drawing on decades of influences, as if Randy Newman, Carol King, Dusty Springfield, Freddie Mercury, Paul Simon, Rufus Wainwright and Regina Spektor. See portlandspirit.com or call 800-224-3901 for scheduling, pricing and to purchase tickets.
Vessel and Company Information: The Portland Spirit is a 150′ yacht with three public decks, two of which are enclosed and climate controlled. We have seating for 340 guests on the two interior decks for a plated meal cruise and capacity for 450 guests for a reception. The Portland Spirit features delicious Northwest cuisine prepared to order in our on-board galley, several full service bars with a vast wine selection, grand pianos with live performers (don't forget our singing wait staff), a ship-wide sound system and a marble dance floor.
The vessels and crew of Portland Spirit River Cruise Dining and Columbia River Adventures form the premier fleet of dinner ships in the Northwest. They offer public lunch, brunch, dinner and sightseeing cruises as well as specialty cruises throughout the year. There are 5 boats in the fleet including the Portland Spirit, Willamette Star, Crystal Dolphin, Explorer and Columbia Gorge Sternwheeler normally out of Cascade Locks, OR. Portland Spirit also operates two land venues; the Terrace on Thunder Island and Gorge Pavilion in Cascade Locks.
Portland Spirit Valentines Dinner Menu
First
Antipasto Plate For Two
Second
Spring Mix, with toasted hazelnuts, dried cranberry and mint berry vinaigrette
Third (choice of one)
Columbia River Steelhead, stuffed with crab and ricotta and finished with infused olive oil served with rice pilaf and sauteed seasonal vegetables
Vegetarian Lasagna, layers of grilled vegetables, tender pasta, mozzarella cheese tomato-basil sauce
Snake River Flap Steak, with roasted herb and spice rub and black pepper demi-glace served with duchess potatoes and sauteed seasonal vegetables
Fourth (choice of one)
Salted caramel crunch cake
Chocolate true red Velvet cake