From our sponsors: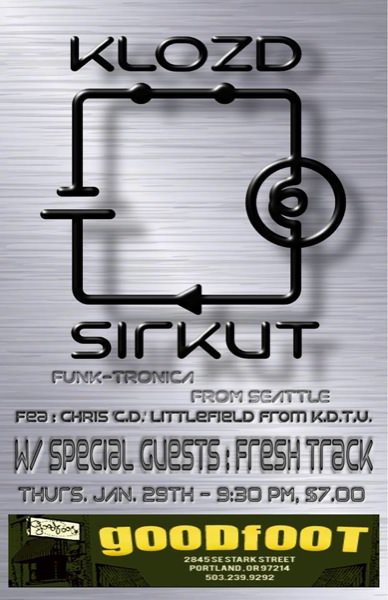 Klozd Sirkut w/Fresh Track
January 29, 2015
Doors open 9pm / Music at 10pm | $7 | 21+
More info: thegoodfoot.com
The Goodfoot
2845 SE Stark St, Portland, OR 97214
(503) 239-9292
Klozd Sirkut is a synthesis of electronic dance music with next level songwriting and musicianship. Acutely aware that the future is now, four well seasoned funk musicians harness the latest advances in music technology, embarking on a mission to rock the modern club scene with old school musical know how and pure groove. The dance floor is at their mercy.
Trumpeter Chris "C.D." Littlefield [ Karl Denson's Tiny Universe, BluSirkut & Marmalade] tweaks his horn with effects to sound at any given moment like a synth bass, a horn section, or an alien vocalist. He can calmly cue samples and loops while laying down keyboard parts and background vocals or playing his horn. "Papa" Josh Suhrheinrich [BluSirkut & Global Funk Council] is an award winning "looper" and well studied musician who performs on guitar and bass, programs beats and rocks the vocals to keeps the funk extra greasy and down right nasty.
Drummer, Davee C, [Clinton Fearon's Boogie Brown Band & Marmalade] is a well known NW Funk, Reggae & Rock musician and successful Dj in his own right— a true groove merchant! Keyboardist Joey Walbaum [Brown Edition & Tetra Box] is a talented new comer on the NW scene. His innate musical intuition and soulful style provide rich texture to the band's sound.
Fresh Track (featuring members of Shafty and Emulator) delivers a healthy blend of rock, funk, and synth driven dance music. Drawing from many different influences, you can expect high energy jams to start the night.