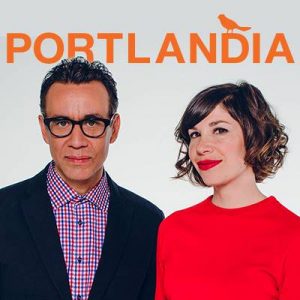 Portlandia Season 5
Every Thursday @ 10 p.m.
More Info: ifc.com/shows/portlandia
The EastBurn
1800 E Burnside St, Portland, OR 97214
(503) 236-2876
Start pickling your celery and concocting celery-based cocktails, because Portlandia returns to IFC Thursday, January 8 at 10pm ET/PT.
Portlandia's fifth season premieres this Thursday at 10p. The new season takes you back in time to 1991, when a merger between two corporate book retailers pits young, sexy, shoulder-pad-wearing Toni and Candace against one another in a fierce competition to oversee the Chick Lit Department. You've seen the guardians of the galaxy's finest feminist bookstore before, but you've never seen them like this. Peter Giles guest stars in the brand new, yet totally-retro episode. -IFC
If you don't have the IFC channel at home or just looking for good Portland establishments to watch, you can watch Portlandia for free Thursday nights at East Burn, where they'lll play episodes in their downstairs taproom and also on on the large projection screen on their heated patio. Nightly food and drink specials!