From our sponsors: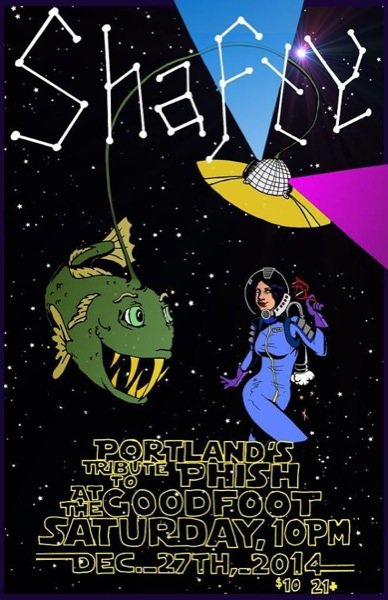 Shafty – Portland's Tribute to Phish
December 27, 2014
Doors 9 p.m., Show 10 p.m. | $10 | 21+
Tickets: goodfoot.com
The Goodfoot
2845 SE Stark St, Portland, OR 97214
(503) 239-9292
Shafty will be capping off a great year with a HUGE Saturday night show at the Goodfoot! A special setlist will be played along with an epic production by Lights Up Loud… Expect more lights than usual as Jason Goers brings out some new toys!
The band had a fantastic time playing multiple residencies at the Goodfoot this year and we can't wait to finish off 2014 at our home away from home. Come join us for our last show of the year!
As usual, expect the unusual! Shafty is as authentic of a Phish tribute as one can find in the PacNW (maybe anywhere?), featuring an over-the-top lighting display from designer Jason Goers/Lights Up Loud, while musically focusing on more intricate compositional pieces, as well as abstract improvisation.
Songs seamlessly flow out of one and into the other, sometimes weaving back and forth, others bookended with razor precision. The secret language… well, it's secret, so how do you know when it's happening? They'll never tell… or will they?
Alongside drummers in mumus, guitarists/bassists on trampolines, FauxTrey and FauxMike have even gone as far as to learn the intricacies of such dances as The Meatstick, The Landlady, "How To Take Care Of Your Shoes" (Cavern, anyone?), and more.
Songs are chosen from all eras – 1983 through present day, and new songs are constantly being added to the setlists.
The only things missing are the GIANT venues and high ticket prices… and I wouldn't say they're "missed"…