From our sponsors: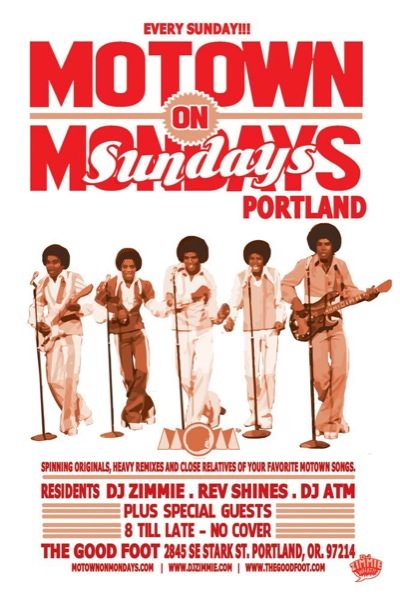 Motown on Sundays
Featuring DJ Zimmie, REV Shines & DJ ATM
Sundays Fall – Winter 2014
Doors open at 8pm | FREE | 21+
More info: goodfoot.com
The Goodfoot
2845 SE Stark St, Portland, OR 97214
(503) 239-9292
What began in 2009 as a humble Monday night, Motown and Soul relatives party in San Francisco (Motown On Mondays) has since exploded into a weekly multi-city dance party across the States with family worldwide.
MOM DJs & Events is a family of DJs, producers, musicians and music enthusiasts that all share a passion for the convergence of soul music and dancing. They perform at and produce weekly, monthly and special events across North America; including San Francisco, Oakland, Los Angeles, Honolulu, Denver, Chicago, Austin, Brooklyn and beyond.
Portland can now be added to the list of parties, as the goodfoot brings you MOM on SUNDAYS with resident dj's Rev. Shines (Lifesavas) and DJ Zimmie .MOM DJs represent the most spirited soul parties with a unique vibration. We gather our musical inspiration from Motown, soul, funk and disco with an emphasis on new and classic remixes/edits. Many of these remixes and edits are created from our family of 60+ DJs and producers worldwide. We hope you kick off your week with us. FREE!!!!!