From our sponsors: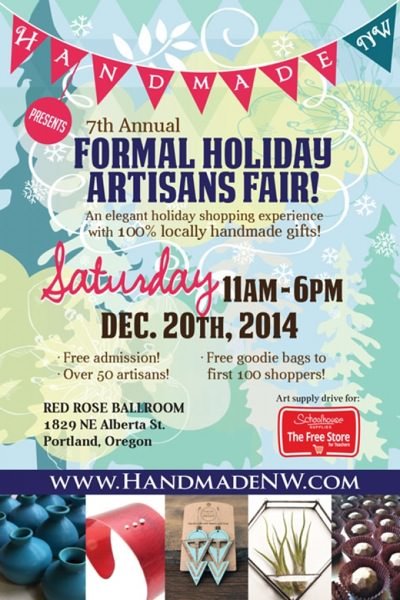 Handmade NW, Formal Holiday Artisans Fair 2014
December 20, 2014
11am – 6pm | Free | All Ages
More info: handmadenw.com
Red Rose Ballroom
1829 Northeast Alberta Street
Portland, OR 97211
The 7th Annual Formal Holiday Artisans Fair is an elegant holiday shopping experience with local handcrafted wares in a stunning ballroom! Over 50 local artisans! Live music, and more!
Handmade NW aims to support an economy of crafters and artisans who have committed to bringing quality handmade goods to our community. We believe that the recipient of a handmade gift receives something that is one-of-a-kind, and made with care and attention that can be seen and touched—quality that is the result of skill and craftsmanship unachievable through large-scale manufacturing. Handmade NW encourages all to support the local economy, and buy local handmade gifts this holiday.
Each year Handmade NW selects a nonprofit partner for our holiday show. This year we are pleased to announce that we are partnering with Schoolhouse Supplies.
Founded in 1999, Schoolhouse Supplies serves the 3,000 teachers and 47,000 students in Portland Public Schools through the Free Store for Teachers, and the Tools for Schools backpack giveaway program.
To date, they have provided $19.4 million worth of free school supplies to classrooms and students in need. Supply drives, community partnerships and charitable giving keep the shelves of the Free Store for Teachers stocked, and helps serve a more diverse network of schools and non-profits across the community.