From our sponsors: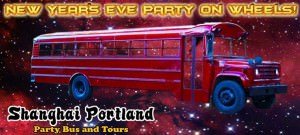 New Year's Eve Party on Wheels!
December 31, 2014
7 p.m. | $30 | 21+
More info: shanghaiportland.com
It was the year 2015…. the era of flying cars, intergalactic transporters, digitally replicated food, and space cadets with very tight pants were in full force.
But some things never change. The sounds of bubble sippin', booty shakin', and midnight makeouts echoed throughout the multiverse EVERY New Year's Eve!
For an entire loop around the sun, our amazing Shanghai Portland events have sold out! We'll be meeting at a centrally located rally point, then we'll board our huge red craft and teleport through wormholes in a flash to 6 awesome mystery bars and venues.
Due to backwards hyper-inflation, tickets are only $30!
Lucky for you, this future craft has co-ed living quarters and very few rules, so come in your futuristic NYE best (ray guns anyone?) and grab your ticket to the paartyyy of the futuuuuurrrre!!!!
Prizes for intergalactic travelers who attend with blue or green skin or clothing made of unidentifiable alloys.
(NOTE: Time travel does not yet exist, so buy your ticket while THEY still exist)