We are giving away 3 pairs ($50 per pair) of tickets to the Vancouver Winter Brewfest this weekend! Each person receives 1 Mug  & 10 Tokens. To win, comment on this post why you would like to attend. We are drawing winners this evening, Wednesday evening, and Thursday evening.
FREE PORTLAND / VANCOUVER: We give out 100s of $$$ in free tickets every week including to many of the top music and art venues in Portland. Join our newsletter if you like free stuff!
———————————————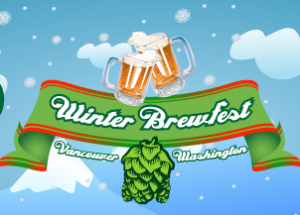 Vancouver Winter Brewfest
December 12th-14th | $25
More info: vancouverwinterbrewfest.com
Esther Short Park, Vancouver, WA
15 W 6th St, Vancouver, WA 98660
(360) 487-8311 | Park info: cityofvancouver.us
Energy Events is hosting the 3rd annual Vancouver Winter Brewfest at Esther Short Park in downtown Vancouver on December 12th, 13th and 14th. With over 2500 attendees each year, growth is anticipated for 2014.
Owned and created by Energy Events, the 2014 Vancouver Winter Brewfest will highlight 30 of the best craft brewed seasonal ales from the Pacific Northwest. Festivals allow brewers the opportunity to create and showcase seasonally crafted beers. As a community event, the Vancouver Winter Brewfest provides a venue for local brewers to highlight the craft beers being brewed locally in Vancouver. Nine Vancouver based breweries will be highlighted in 2014, including: Mount Tabor, Loowit, Heathen, Dirty Hands, Ghost Runner, Mill City and Beerded Brothers. All breweries represented can be viewed at www.vancouverwinterbrewfest.com.
New to the 2014 festival are 5 beers from the featured country of Belgium. Expanding the beer focus internationally is a new tradition that will be continued at the Vancouver Winter Brewfest for years to come. Each year a new country will be featured, with German beer slated for 2015, and England being the featured country in 2016. The Vancouver Winter Brewfest has a unique beer line-up not seen at other festivals.
The Vancouver Winter Brewfest will again be held in Esther Short Park, at Propstra Square between the clock tower and the Christmas tree, within a large enclosed and heated tent. Beneficiaries of the 2014 brewfest include Race to Remember and the Downtown Vancouver Association non-profit organization. The Vancouver Winter Brewfest is developed in close collaboration with brewers, distributors, the Downtown Vancouver Association, the City of Vancouver, and other sponsors.
Brewfest hours are: December 12th from 3pm to 10pm, December 13th from 12pm to 10pm, and December 14th from 12pm to 6pm. Costs vary, and a mug must be purchased in order to enjoy any of the beers. Designated drivers are allowed entrance for $5 and non-alcoholic drink options are available.
Pre-sale purchase can be found on the website at www.vancouverwinterbrewfest.com and saves up to $8 dollars off retail price. Over 250 volunteers will be on hand for the festival. Interested volunteers can sign up on the website.