We are giving away a pair of tickets to Portland Masquerade Ball on December 13. To win, comment on this post why you'd like to attend. Winner will be drawn and emailed Friday, December 12.
FREE PORTLAND: We give out 100s of $$$ in free tickets every week including to many of the top music and art venues in Portland. Join our newsletter if you like free stuff!
———————————————
From our sponsors: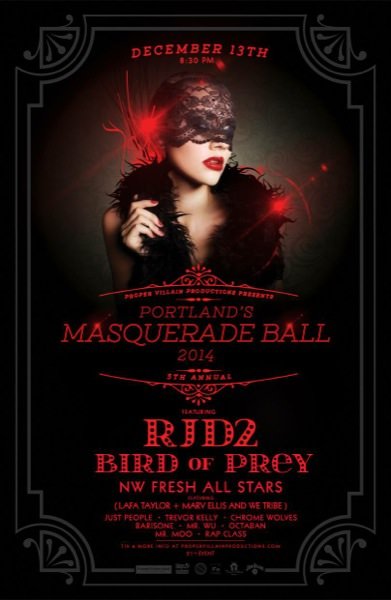 5th Annual Portland Masquerade Ball
December 13, 2014
8:30 p..m | $34 | 21+
Tickets: propervillain.strangertickets.com
Branx
320 se 2nd Ave, Portland, OR 97214
Welcome to Portland's Masquerade Ball.
This is a Proper Villain Productions Experience. Prepare to have fun.
RJD2
rjd2 originally began his career in Columbus, Ohio, DJing in 1993 with a pair of turntables bought from a friend. He went to high school at Fort Hayes Metropolitan Education Center and graduated in 1994. He claims his name originates from another friend who referenced him as "rjd2" in his raps, and the name stuck.
Originally working the role of DJ in the Columbus rap group MHz, he later signed to Bobbito Garcia's Fondle 'Em label, releasing the self-proclaimed "mix CD" Your Face Or Your Kneecaps. A year later he signed to El-P's record label Definitive Jux and released his solo debut album Deadringer to much acclaim.
rjd2 later collaborated with Columbus rapper Blueprint under the name Soul Position, releasing Unlimited EP in 2002 and 8 Million Stories in 2003. He released his second solo album Since We Last Spoke on Definitive Jux in 2004, which blended hip-hop with elements of pop and was lauded as one of the year's Top 40 Albums by SPIN.
He later contributed a cover of "Airbag" by Radiohead for the 2006 album Exit Music – the same year that saw the release of the collaborative record, Magnificent City, with Aceyalone. Fully indulging his passion for pop, rjd2 released another solo album, The Third Hand, on XL Recordings and toured extensively through 2008.
The innovative producer's 10-year career reached a marked turning point in 2009 after he scored "A Beautiful Mine," the popular theme to the hit AMC television series, Mad Men. In early 2010, he dropped The Colossus – the first album to be released on his own label, RJ's Electrical Connections. He has since reissued Your Face Or Your Knee Caps, The Horror, and Since We Last Spoke as well as a vinyl LP deluxe box set entitled 2002-2010 via his label.
www.rjd2.net
BIRD OF PREY
Bird of Prey is bay area native Torin Goodnight. Pursuing electronic music for over a decade, he has refined his sound and style to offer something unique and powerful to the electronic music community. He aims to provide an alternative to the current trends, where focused intent and sound waves convene to create the circumstances for magic. Bird of Prey offers a cohesive blend of organic, tropical qualities with modern psychedelic bass music. His fusion of elements, both natural and synthetic, create an engaging bio-digital landscape that leaves little to the imagination.
After several years of being heavily involved in the psy-trance scene, he developed his sound into something that more accurately represented his imagination, in hopes of conveying how he feels about music and it's potential to transform our every day experience into something magical.
www.birdofpreymusic.com
THE NW FRESH ALL STARS
featuring Lafa Taylor and Marv Ellis & We Tribe
Lafa Taylor – A world traveler based in Oakland, CA Lafa Taylor is an achieved singer/emcee/producer. His music carries a message of inspiration and activation, while staying gritty, bassy, and most importantly danceable. Lafa's live show is energetic, dynamic and unique. He has a great talent for connecting with his audience and working with the energy of the crowd. His collage of infectiously harmonic, bass heavy, multi tempo music quickly heats up the dance floor. His vocal style ranges from sweet melodic choruses to tongue twisting rhymes. He is also known for his intricate beat boxing, and often incorporates live looping.
www.lafataylor.com
Marv Ellis – Every day Marv Ellis wakes up and devotes his entire life to his passion: creating and performing music that's thought-provoking and dance floor ready. He spent the last ten years working on refining that vision. Blending his unique style across multiple genres Marv Ellis is a pioneer for authentic NW hip hop music. He tackles the tough, honest concepts that most musicians avoid. The root of his lyrical talent comes from a different place. His education in a Spanish-speaking school developed his word-bending and explosive speech. Being taught how to rap by a Swiss German emcee showed him the value of universal tone and word placement: that how you say it is only half the battle. This practice eventually led to the critically-acclaimed flow of the Oregon born emcee. At the end of the day he just wants to leave his mark of inspiration, positivity and awareness on the good people of Earth.
www.marvellis.com
JUST PEOPLE
Just People are a soul-rock outfit based in the bubbling music scene of Portland, Oregon.
Derived from the mind of idealistic front man Scott Gilmore, Just People combines the optimism of our past with the dedication and energy of today's youth.
The band has drawn comparisons to artists throughout the genre spectrum from Pearl Jam and The Flaming Lips to the Talking Heads and Cat Stevens. One thing is for certain, Darcy Wallace of the Oregon Voice states: "JUST PEOPLE are tough to pin down, but damn it, it just sounds so good."
www.justpeoplemusic.com
TREVOR KELLY
Uninterested in a world that sticks creativity in a box, Trevor Kelly challenges the status quo and dives into the depths of the human creative stream. Trevor inevitably takes his listeners on a sonic journey, bending genres, and bridging musical worlds.
Trevor's most recent sound, a fusion of Future bass and 808, is the consequence of his ever-evolving musical style. His innovative sound design and ability to compose heavy yet musical verses gives him an edge not only in the 808 game working alongside Muti Music, but the Glitch Hop scene as well; with a Releases on Street Ritual Substruk Records. Impassioned and undivided, Trevor versatility as an artist coupled with his drive to challenge the limitations of genres truly makes him one of a kind, recreating himself and his music one note at a time.
www.soundcloud.com/trevorkellyproductions
CHROME WOLVES of WE GOT THIS
Chrome Wolves is the project of Andrew Alexander, conceived beneath the moon in Portland Oregon. With long time roots in hip hop production and a newer found love to performing/DJing electronic music, Chrome Wolves brings those worlds together with gusto. When not in the club, Chrome Wolves draws influence form a vast array of music and genres, as is evident in his sets. He incorporates all types of original production, familiar beats, current tastemakers, classics, samples and vocals all together to remix live and keep the crowd on their toes. Whether it is something familaiar or a track you have near before heard, Chrome Wolves makes a home on the sexy side of beetwes while still keeping them thumping and the party moving.
www.soundcloud.com/chromewolves
BARISONE
Barisone is without a doubt one of PDX's best loved DJ's. His magnanimous presence and penchant for putting the dancefloor into sublime outer spaces is well known. With versatile crates that seamlessly span the upfront to the time tested, Barisone comes with dj sets filled with his own loops, layers, and edits that always set the party off.
www.soundcloud.com/barisone
MR. WU
Mr. Wu is a DJ, designer, promoter, screen printing ninja holding it down in Portland OR way of Vancouver B.C. His multi-genre DJ sets blend slow and sexy with future club-rockin' bass music. Driven by creativity and community, Mr. Wu is constantly finding new ways to grow as an artist while staying connected and growing with his inspiring community of friends.
www.soundcloud.com/mr_wu
OCTABAN
www.soundcloud.com/octaban
MR. MOO
Mr. Moo hails from the forested hills of the NW. A Portland, OR native…. Mr. Moo grew up surrounded by nature, music, and many months of rainy, overcast days.
His music is a particular electro-acoustic blend of violin, sound-design, and infectious heavy beats. A Mr. Moo performance pulls heavily on sounds from all over the world, samples of music from different cultures and time-periods, all glued together to take you into another world.
www.worldofmrmoo.com
RAP CLASS
Rap Class is an eclectic DJ and producer who has been operating out of the PNW for the better part of the last decade. His styles are routed in a heavy sample based audio collage and disco mix champion influence. He can deliver anything; changing the ins and outs of his routine is his specialty. Every time you see him it's like drawing a prize out from a bag. His one goal: to keep his audience guessing. Seeing him live, audiences may just learn that forward thinking electronic music doesn't merely exist in the present, but lives as a culmination of all music history, a fact to be presented by the right DJ at the right place & time: Rap Class.
www.droppinggems.com/rap-class
———————–
———————–
///ART\\\
CUSTOM STAGE DESIGN
LIVE BODY PAINTING
DA BOOTH
///PLUS\\
FUNKTION ONE SOUND by FUSEBOX PRODUCTIONS
LIGHTING by PHEE LIGHTING
HOOKAH LOUNGE