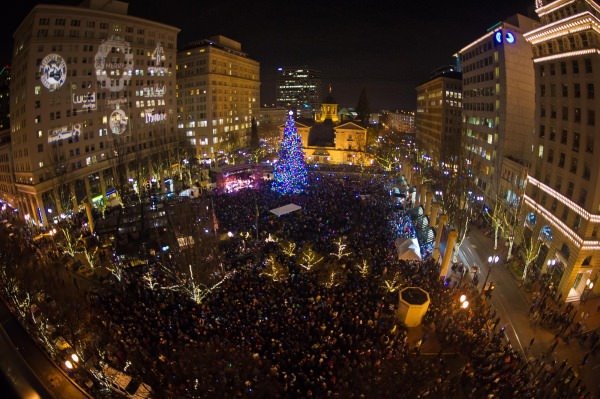 Portland's holiday season is here! Get in the spirit at one of these magical Christmas / Holiday tree lightings and Santa sightings!

FREE PORTLAND: We give out 100s of $$$ in free tickets every week including to many of the top music and art venues in Portland. Join our newsletter if you like free stuff!
———————————————
Related Portland Events & Info
———————————————
Portland Area Tree Lightings & Events 2014
November 15-December 31: Lighting of Maddax Woods in West Linn | FREE, Magical Christmas / Holiday Lights Trail
Enjoy a magical walk down a lighted, accessible path through the Woods and to the viewing platform on the Willamette River. Click here for more info.
———————————————
November 28: Macy's Holiday Parade | Pictures, Route & Info, 25 Floats, Marching Bands, Santa, 650 Costumed Characters
In celebration of the 2014 holiday season, Macy's is proud to announce that its annual My Macy's Holiday Parade will take place on Friday, November 28, 2014 in downtown Portland. The parade steps off promptly at 9 a.m. and lasts approximately one hour. The 2014 Portland My Macy's Holiday Parade will feature 25 inflatable floats, local middle and high school marching bands, nearly 650 costumed characters and much more! Click here for more info.
———————————————
November 28: Tree Lighting @ Millennium Plaza Park | Caroling, Santa, Millennium Concert Band, Bigelow Plaza Tree
The City of Lake Oswego and the Lake Oswego Chamber of Commerce invite you to join in a time-honored tradition as we ring in the holiday season. This extraordinary evening of holiday cheer includes caroling, performances from local high schools and the Millennium Concert Band. Click here for more info.
———————————————
November 28: Portland Christmas / Holiday Tree Lighting @ Pioneer Square | Pictures, Video, Sing-A-Long, Hot Chocolate
Portland's 2014 Christmas / Holiday tree arrives this November 14 in Pioneer Square. Festivities include Santa + music. The lighting is the Friday after Thanksgiving at 5:30PM. This tree lighting event will feature a holiday sing-a-long featuring Thomas Lauderdale with members of Pink Martini. Click here for more info.
———————————————
November 28-30: Vancouver Holiday Tree Lighting @ Esther Short Park | Talking Tree, Concert, Train Rides, Festival of Trees
Be there when thousands of lights come alive on Vancouver's community tree in Esther Short Park. The Loci locomotive will give rides around the park. Santa will be there. Click here for more info.
———————————————
November 28-Decmeber 21: Christmas in the Garden @ Oregon Garden | Christmas Market, Lights, Live Music, Santa Claus & Live Reindeer (Win Tickets, $20)
One of the Northwest's newest holiday traditions is "Christmas in the Garden," a charming event featuring a traditional Christmas market and light display in The Oregon Garden's Rediscovery Forest. The second annual Christmas in the Garden will take place from 4 to 9pm each Thursday through Sunday from November 28 to December 21. Click here for more info.
———————————————
November 29: Mississippi Avenue Tree Lighting | Mr. Ben, Portland Youth Ukulele Orchestra, Carols 5 p.m.
Join Mississippi Ave on Saturday, November 29th at Mississippi Commons for the annual holiday tree lighting, featuring an exclusive performance by children's performer Mr. Ben and the Portland Youth Ukulele Orchestra. The Ukeladies PDX open the show. Click here for more info.
———————————————
November 29-January 4: Holidays in the Pearl 2014 | Explore the City's Best Window Displays & Enter to WIN Holiday Prize Package!
Tis the season for festive decorations in the Pearl District! The neighborhood is set to sparkle with holiday décor and displays – and tempting business-donated prize packages including gift certificates for workouts, eyeglasses and photography, carpets, massages, Dining gift certificates, annual streetcar pass and even an organic food basket from Whole Foods! Click here for more info.
———————————————
December 2: Community Christmas Tree Lighting @ Concordia University | Free, Carols + Music, Santa + Mrs. Claus
All are welcome to join in the Concordia University 2014 Christmas Tree Lighting with Christmas carol sing-along with Concordia's Concert Choir, Christmas treats and warm drinks, and a special appearance by Santa and Mrs. Claus. Celebrations will be held outside the George R. White Library & Learning Center from 6:00 – 7:30 pm. Click here for more info.
———————————————
December 5: Beaverton Tree Lighting | Holiday Open House, 5-7 p.m.
For over a decade the community has brought in the holiday season with the annual Tree Lighting and Holiday Open House. The tradition continues this year on Friday, December 5 at the Beaverton City Library and City Park! Join Santa and Mrs. Claus for an evening of festive lights, holiday music, arts and crafts and family friendly activities all leading up to the lighting of our community holiday tree. Click here for more info.
———————————————
December 5: Kenton Holiday Tree Lighting Party | Santa, Music, Treats
Join the Kenton Business Association for a holiday tree lighting party in downtown Kenton. Kids music and sing along, Santa with treats, cocoa and hot cider for all! Click here for more info.
———————————————
December 5: Camas Hometown Holidays | Free, Tree Lighting, Photos w/ Santa, Hay Rides, Food Vendors
Come celebrate the season in historic downtown Camas with holiday entertainment, tractor hay rides, crafts for kids and food vendors. Help Santa light the tree at 6:30 pm sharp! Then, visit Santa to tell him your wish list and pose for photos. Click here for more info.
———————————————
December 5-21: Christmas Ships Parade 2014 Schedule + Viewing Locations | Pictures, 60+ Boats, Columbia & Willamette Rivers
The Christmas Ship Parade will open their 60th season on Friday, December 5th, in a combined fleet cruise down the Columbia River's North Portland Harbor, this being an up-close and personal cruise in close proximity to the floating homes and marinas that line the inside of Hayden Island. The following night, the combined fleet will head upriver to the Port of Camas/Washougal for their annual cruise to the Mouth of the Gorge. For the next 14 days, the fleets will mix combined fleet and separate cruises on the lower Columbia and Willamette Rivers, culminating with a grand finale on the Willamette River on December 21st. Click here for more info.
———————————————
December 6: Sherwood Winter Festival | Free, All Ages Family Fun, Parade, Music, Live Nativity, Tree Lighting, See Santa Arrive By Helicopter
The Sherwood Winter Festival is a wonderful annual community celebration taking place on Saturday, December 6, 2014 (rain or shine). The generosity of local businesses and the City of Sherwood make the Winter Festival possible. The Winter Festival takes place the first Saturday of December every year. Click here for more info.
———————————————
December 6: Milwaukie's Umbrella Parade & Tree Lighting Ceremony | Contest, Santa
Milwaukie's Umbrella Parade & Tree Lighting Ceremony, the popular event where participants decorate their umbrellas and compete for prizes, is set for Sat., Dec. 6, 2014. Staging for the parade begins at 3:30 p.m. at the Portland Waldorf School's south parking lot, (21st Avenue and Monroe Street) and the Tree Lighting Ceremony follows the parade at City Hall (Jackson and Main) around 4:45 p.m. Click here for more info.
———————————————
December 6: Oregon City Tree Lighting @ Liberty Plaza | Free, Santa, Music, Refreshments
Oregon City is hosting its annual tree lighting on Saturday, December 6. Festivities begin at approximately 4:30 pm and the tree lighting ceremony begins at 5:00 pm with the arrival of Santa. Enjoy performances by the Clackamas Community College Chamber Choir as they sing holiday tunes a cappella. Refreshments will be available. Click here for more info.
———————————————
December 7: St Johns Winterfest @ St Johns Plaza | Food, Live Music, Costumes, Tree Lighting & More
Stock up on winter staples at the Winter Farmers Market and stick around for caroling, shopping with local merchants, live music & celebrations at the Tree Lighting! Click here for more info.
———————————————
December 8-21: Sleigh Rides on the Water w/ Portland Spirit | Join the Christmas Ships Parade Holiday Lights
Looking for something new and exciting to do this holiday season? Hop on board Portland Spirit's Explorer for a sleigh ride on the water. This December be a part of the Christmas Ships parade ~ celebrating 60 years ~ with this unique sleigh ride on the water cruise. Your cruise will be complete with hot chocolate, cookies, cozy blankets and a fun way to see the holiday lights. Click here for more info.
———————————————
December 9, 11, 16 & 18: PDX Pedicab Christmas Ships Tour & Meal | Romantic Holiday Date, Beautiful Sights, Lights
PDX Pedicab is proud to offer the 60th anniversary of the Christmas Ship Parade, and partnership with Oso Market. The Christmas ship parade makes for a stunning and unforgettable Holiday Experience. Ships lavishly decorated with Christmas lights float the Willamette River and light up the winter evenings. Click here for more info.
———————————————
December 15, 17, 19-23, 26-27: FestiBus Lights Bus Tour w/ Portland Short Bus | Peacock Lane, Crale House, Gift Exchange
This season give yourself the gift of FestiBUS. Join 12 random strangers on the Portland Short Bus as we hit up (2) quintessential Portland holiday light displays (The world renowned Peacock Lane as well as the lesser known Crale House). In addition to the light shows, we will merrily whisk you along to three of our favorite bars whose jolly innards are absolutely glowing with holiday cheer. Click here for more info.
———————————————
Our new Portland Events App for PDX Pipeline is now available for iPhones, Android phones and iPads!
Now, you can have all of the great Portland events from our website in the palm of your hand when you're out on the town.
–————————
———————————————