From our sponsors: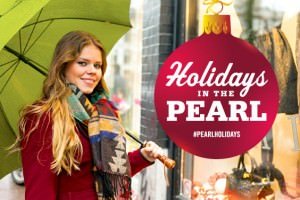 Celebrate in the Pearl 2014
November 29, 2014-January 4, 2015
More info: explorethepearl.com
Tis the season for festive decorations in the Pearl District! The neighborhood is set to sparkle with holiday décor and displays – and tempting business-donated prize packages including gift certificates for workouts, eyeglasses and photography, carpets, massages, Dining gift certificates, annual streetcar pass and even an organic food basket from Whole Foods!
HOLIDAY TREE LIGHTING – November 29th from 4-6pm
Come to Jamison Square for the annual Tree Lighting celebration. The first 50 guests get a FREE umbrella! Take a selfie with the tree or umbrella and post to Twitter or Instagram with the hash-tag #PearlHolidays to be automatically entered into the Holiday Prize package drawing!
TAKE A "SELFIE" IN THE PEARL
While shopping, dining, or even pampering yourself in the Pearl this season, take a selfie and post it to Twitter or Instagram with the hashtag: #PearlHolidays
SIGN-UP FOR NEWS FROM THE PEARL
Visit our website at ExplorethePearl.com and sign-up for our newsletter to get the latest on Pearl events, promotions and special offers. Everyone who signs-up is automatically entered into the Holiday Prize package drawing!
Contest starts 11/29/14 and ends 1/4/15. Winners for each prize package will be selected at random and notified by email. No purchase necessary. The Pearl District Business Association received funding for this event through Venture Portland Winter 2014 Benchmark Grant.