From our sponsors: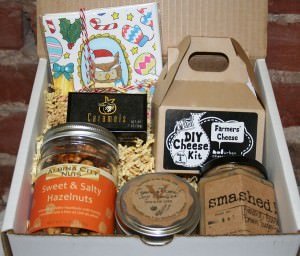 Tique Box Holiday Gift Service
More info: tiquebox.com
Tique Box, the local company that delivers a slice of Portland in a box, announced their Holiday Gift Service. With their slogan "Let our elves do all the work," the company that provides guest star gifts to the TV show Portlandia wants to do your holiday shopping for you.
Here's how it works.
Select the boxes you'd like to send to each person and write a personalized message.
Confirm the order and pay the invoice online.
Gifts ship Priority Mail on December 15 and arrive in 1-3 days.
Customers can choose to send the following types of boxes:
Co-Founder Paige Hendrix Buckner explains, "All year, our fans have asked us for holiday gifts because they want to send a little bit of Portland to their friends, family, colleagues and clients. It's a time-consuming chore, so we built a tool to make it easy for individuals, businesses and organizations. These Portland gift boxes are perfect for anyone who wants to send a unique present that also supports our local artisans."
Supply is limited, so don't wait to place your order! For more details, visit the Holiday Gift Service page. To contact Tique Box, email [email protected].