From our sponsors: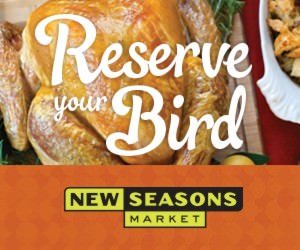 Reserve Your 2014 Thanksgiving Turkey
Make reservations at newseasonsmarket.com or call 503-473-8695
There's something gratifying about cooking for friends and loved ones over the holidays. You're not just filling them with food; you're filling them with joy. Of course, sometimes it's difficult to find the time to make it all happen!
At New Seasons Market, we're here to help you bring the food and the joy. From Organic Heirloom turkey and grass-fed rib roast, to crab cakes and gluten-free stuffing, we've got you covered for your Thanksgiving feast.
Reserve your dinner online or by calling 503-473-8695, and let this holiday season be about the joy of food and family.