From our sponsors: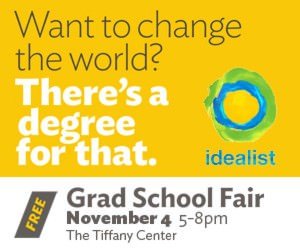 2014 Idealist Grad Fair
November 4, 2014
5-8 pm. | FREE | All Ages
More info + RSVP: idealistpdx14.eventbrite.com
The Tiffany Center
1410 SW Morrison St, Portland, OR 97201
If you're thinking of going to grad school in the next year or two, the FREE Portland Idealist Grad Fair is for you.
Generously hosted by The Portland State University Master of International Management Program, the fair is for undergrads, professionals, and anyone else thinking of applying to graduate school to further their social impact career.
At the fair, you'll meet representatives from over 60 local, national, and international universities offering graduate degrees in education, international affairs, nonprofit management, public health, and social work, among many other civic-minded programs.
They are available to talk with you about their admissions requirements, financing options, and application deadlines, and to answer any questions you may have. RSVP on Eventbrite Today!