From our sponsors: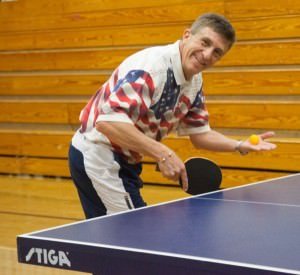 Trick Shot and Stunt Exhibition by Ping Pong Man, Scott Preiss
November 1, 2014
7p.m. | $5 | All Ages
More info: jeffmasontabletennis.net
The Ambridge Table Tennis Club
1333 Northeast Martin Luther King Junior Boulevard, Portland, OR 97232
(503) 239-9921
Ping Pong Man, Scott Preiss, (www.pingpongman.com) will show off his table tennis prowess and trick shots at an exhibition starting at 7pm on Saturday, November 1, at the Ambridge Table Tennis Club (ATTC) located at the Ambridge Event Center, 1333 NE MLK Blvd, Portland (corner of NE MLK and Clackamas Street). Entrance fee is $5. Wine and beer will be available for a nominal cost as well as some snack food during the party.
Preiss' performance will be followed at 8pm by a point-adjusted tournament, open play for all ages and playing levels. There is no separate fee to enter the tournament. Balls and paddles are provided.
The Ping Pong Man, Scott Preiss
A U.S.-certified National Coach, Preiss has performed his entertaining show around the world. "Preiss is considered a top ambassador of the sport," said Jeff Mason, coach of ATTC. This is not a solo performance, which would be difficult in table tennis. Preiss will be playing other top-ranked U.S. players in the November 1 exhibition. He is known as the top entertainer and ambassador of the sport. Check out Ping Pong Man's YouTube videos below:
More on Ambridge Table Tennis Club – weekly tournament and monthly party
The Ambridge Table Tennis Club (ATTC) is open to all. Anyone can come in and practice for a $5 entry fee during regular hours: Sundays 9am-5pm, Mondays 4-9pm, Tuesdays 12 noon-9pm and Fridays 3-9pm. Balls are provided for play, and if you don't have a paddle, loaners are available. Families with young children are also invited to come and play. Those taking lessons from Jeff Mason (US Certified National Coach) practice for free during open hours.
Every Friday night at 7pm a league or tournament is held, with prizes and awards for winners at all levels. Entry fee is $5.
A party with open play, fun activities and tournaments is held one Friday evening each month, open to all for an entry fee of $5.
For more information on the Ambridge Table Tennis Club, lessons, coaching, tournaments, open play, and more, contact Jeff or Sandy Mason at humoles@gmail.com or call (541) 999-0926. New website is www.jeffmasontabletennis.net

Ambridge Event Center is Portland's only free-standing, privately-owned event complex and conference center. Ambridge offers a variety of flexible event spaces and services normally only found in larger conference centers, combined with the warm welcoming atmosphere of a special events venue. Ambridge has been hosting a wide range of educational, corporate, nonprofit and private gala events since 1991 in the centrally-located Rose Quarter neighborhood, close to highways and public transit. For more information or to discuss an upcoming event, call (503) 239-9921 or go to