From our sponsors: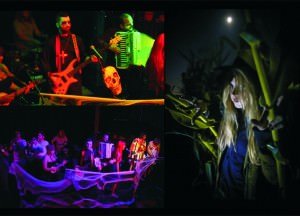 Kruger Farms 2014 Cabaret Maze Halloween Harvest Fiesta
October 31, 2014
6 p.m. until Late | $15 | All Ages
More info: krugersfarm.com
Special Pre Sale Ticket Price CLICK HERE.
Kruger's Farm
17100 NW Sauvie Island Rd, Portland, Oregon 97231
A Halloween Celebration unlike any other!
Five Great Bands
Campfires
Fire Dancers
Scary Movies
Big Bonfire
and surprises galore around every corner… all on a country farm.
Slip into your costume and head on out to the farm this All Hallows Eve for festive masquerade ball near a spooky corn maze. Watch the fire dancers and hoopers as they sparkle in the moonlight, dance to one of the 5 bands, catch a scary movie, wander through the corn maze, or just gather around one of the campfires with your favorite trickster.
6 pm till late
$15 per person
Featuring:
Three for Silver, All the Apparatus, Luz Mendoza, Edna Vazquez Quintet, 1000 Fuegos
About Kruger's Farm
Kruger's Farm features a produce market with vegetables and fruit hand-picked every day, u-cut flowers with over 50 varieties, u-pick produce and picnic areas. Kruger's Farm also carries canning supplies and features a retail section with market baskets from Ghana, sun hats and children's garden items. For more information, please visit www.krugersfarm.com or call 503-621-3489. The farm is open daily from 9 a.m. to 7 p.m. and 9 a.m. to 10 p.m. on weekends through October.
Directions to Kruger's Farm Market: Take Highway 30 north past Linnton to the Sauvie Island Bridge. Cross the bridge, proceed north approximately 1 mile on Sauvie Island Road and turn right into Kruger's Farm Market.