From our sponsors: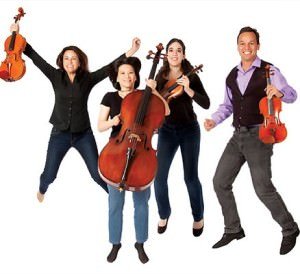 Carpe Diem String Quartet
January 17, 2015
7:30 p.m. | $38.50 General
$31 Students/Seniors (in person w/ID at Portland'5 Box Office)
$35.25 Groups of 8 or more
Tickets available now at http://bit.ly/1xMfaLK
Winningstad Theatre
1111 SW Broadway Dr, Portland, OR 97205
(503) 248-4335
Carpe Diem String Quartet is a boundary-breaking ensemble that has earned widespread critical and audience acclaim for its innovative programming and electrifying performances. With programming that reflects its passions for Gypsy, tango, folk, pop, rock, and jazz-inspired music alongside the traditional string quartet repertoire, the quartet continues to rack up accolades and awards. Carpe Diem is masterful in both classics and modern works.
Carpe Diem champions the music of living composers, and has commissioned, premiered, and performed works from a broad and stylistically diverse range of various composers including Frank Bennett, Danny Elfman, Ken Fuchs, Korine Fujiwara, Osvaldo Golijov, Andre Hajdu, Donald Harris, Jennifer Higdon, Jonathan Leshnoff, Nicholas Maw, William Thomas McKinley, Clancy Newman, Carter Pann, Kevin Putts, Eric Sawyer, Gunther Schuller, Richard Smoot, Bradley Sowash, Lawrence Dillon, and Bruce Wolosoff, among others.
Carpe Diem is committed to pushing the limits of the classical string quartet and to changing the concert experience of chamber music. Using innovative programming, thematic concerts, popular music for younger generations, cameras and video to assist in the visual presentation, as well as speaking from the stage to better engage the audience, Carpe Diem is bringing new audiences into the concert hall and revitalizing the chamber music experience.