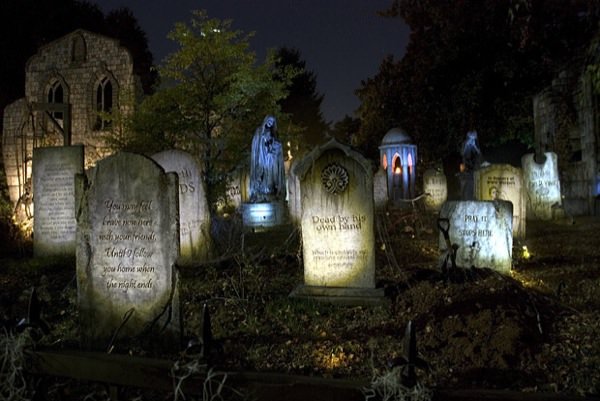 Photo by Bryan Dorr.
Milwaukie's famous haunted yard is officially open. With full light, sound, video and fog effects on Friday & Sunday nights, the family friendly decorations are viewable every night. This elaborate yard display is not a haunted house and is free to view from the street. Stop by their Open House on October 12 and learn how the magic is made!
FREE PORTLAND: We give out 100s of $$$ in free tickets every week including to many of the top music and art venues in Portland. Join our newsletter if you like free stuff!
———————————————
Related Portland Events & Info
———————————————
From press release: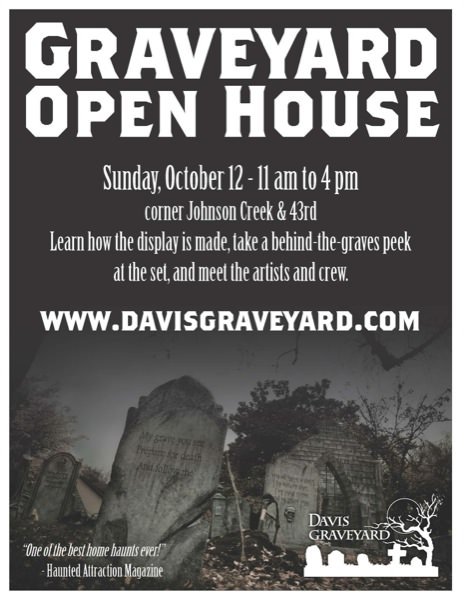 Portland's Davis Graveyard
October 2014
Open House October 12, 2014 11 a.m. – 4 p.m.
Free | All Ages
More info: davisgraveyard.com
Davis Graveyard
8703 SE 43rd Ave., Milwaukie, Oregon 97222
(at the corner of Johnson Creek Blvd. and 43rd Ave.)
In its 14th year, Davis Graveyard is one of the largest home haunts in the country. They have over 80 tombstones, a mausoleum and a three story 12 x40 ruined abbey – there are several statues in the display.
They are lights only Monday through Thursday and they have video and animitronic effect and fog Friday, Saturday until 11pm and Sunday until 10pm.
It is free to view from the street. It is NOT a haunted house (you do not walk through it). This family friendly attraction is not gory and nothing will jump out at you.
On Halloween night the street will be closed from 5pm until 10pm and the Milwaukie Night School Dance team will be doing a Thriller dance number in the abbey about every 30 minutes until 9:30 pm. This night is a fund raiser for the dance team.

Parking: When parking and viewing the display, please be respectful of the neighbors, trick-or-treaters, and the traffic on Johnson Creek Blvd.
About the Davis Family
How does one become obsessed enough with Halloween to dedicate months of time, hundreds of dollars and the better part of their home to the transformation? It all started with our family and friends. We love Halloween. They love Halloween. We've always wanted to create an elaborate yard display … so have they. And faster than you can say "trick or treat" the plan is hatched. Next thing you know, they're spending every available minute at your house, transforming the garage, driveway, front yard and house into a realistic graveyard. From this initial haunt, the 1031 Club was born.
When we purchased the house we live in today. From the moment we laid eyes on the yard, we knew its destiny was that of the ultimate Halloween cemetery. It took several years to bring the dead and dying to life, but the dream has become a reality. For over 10 years, we have created a creepy crawly yard haunt that has attracted people from all over the Portland area.
It has become a spectacle of spectres that we are all quite proud of. But none of this would have happened had it not been for our good friends and family members who started us down this path, as well as the inspiration from fellow yard haunters throughout the country. From our family of freaks, fiends and the gratefully undead to yours, happy haunting.
———————————————
Our new Portland Events App for PDX Pipeline is now available for iPhones, Android phones and iPads!
Now, you can have all of the great Portland events from our website in the palm of your hand when you're out on the town.
–————————
———————————————
Photos
Photos by Bryan Dorr.