From our sponsors: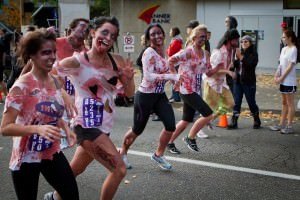 Run Like Hell
October 26, 2014
Doors 7 a.m. / Half: 7:45 a.m. / 10K: 8:20 a.m. / Kids Half Mile: 8:30 a.m. / 5K: 9 a.m.
$44 – 5K run/walk
$54 – 10K run/walk
$99 – Half Marathon run/walk
$8 – Kids' Half Miler without a shirt
Registration: terrapinevents.com
Pioneer Courthouse Square
701 SW 6th Avenue Portland, OR 97204
Join us in 2014 for the 11th annual Run Like Hell, a Halloween-themed race that sees participants dress out in full costume for a run through the streets of Portland. Run Like Hell features:
commemorative technical t-shirt
two ice cold lagunitas beers (21+)
tasty post race food (spin catering)
live local music at post race party
all new MUSICAL MILE (plus music every 2 miles)
great race support / volunteers (aid every 2 miles)
custom "bottle opener" medals
much much more
* Please note there is a 15 min / mile time limit for the half marathon!
Musical Mile title
The Musical Mile is a our latest and greatest addition to Run Like Hell! This unique portion of the Run Like Hell course features 12 blocks where 12 unique Portland musicians play to all three distances (half, 10k, 5k). All participants will pass the Musical Mile twice, making 24 magical, musical and entertaining blocks for all to enjoy!
START LOCATION: Pioneer Courthouse Square
THEME: Under the Sea
PACKET PICKUP:
IN-STORE AT THE NE FOOT TRAFFIC:
Friday, October 24: 11am-7pm
Saturday, October 25: 10am-3pm
DAY OF RACE AT THE EVENT: Starting at 7 am
We strongly recommend you attend the In-store pick-up; lines on raceday can be long. We allow and encourage you to have friends or family members pick up your packet for you if you cannot attend the in-store packet pickup. Please make sure that if you pick up someone else's packet, they know you did so.
Make sure you read the info below before you go to the registration info.
ABOUT MOLLY'S FUND:
Founded in 2007, Molly's Fund Fighting Lupus is a Portland, OR -based non-profit that is changing the way people understand lupus, its diagnosis and its treatment. Lupus is a debilitating disease affecting approximately 1.5 million American;. 90% of those dignosed are women. Despite its prevalence, lupus is rarely understood and under researched. It can affect any part of the body, resulting in pain, inflamation, and systemic damage. There remains no cure for lupus, and it is estimated that 10-15% of those diagnosed will die prematurely due to complications from the disease.
Our support groups, online and local serve the entire community of people affected by lupus. Through one-on-one client advocacy we connect lupus sufferers with services to address their medical and overall wellness needs– like disability application assistance, prescription assistance, and legal consultation. Our Mission: to educate the public and the medical community about lupus, to push for earlier, life-saving diagnoses for those afflicted, and to spur governments and foundations to fund research toward a cure.
To find out more please visit the Molly's Fund website.