We took this picture during a great SE Portland Sunday Parkways a few years back. The event wraps up for the 2014 season on September 28. Highs are expected to be in the lower 70s, this might be your last chance to hop on the bike before the rain takes over! Even if you don't bike, you can walk and enjoy the activities, parks, and closed off streets.
————————————
Related Portland Events and Giveaways:
————————————
2014 Southwest Portland Sunday Parkways Info & Route Map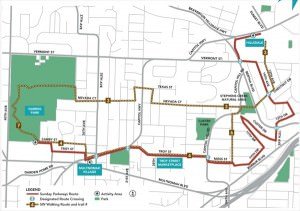 2014 Southwest Portland Sunday Parkways
September 28, 2014
11 a.m. – 4 p.m | More info: portlandoregon.gov
Portland Sunday Parkways promotes healthy active living through a series of free events opening the city's largest public space – its streets – to walk, bike, roll, and discover active transportation while fostering civic pride, stimulating economic development, and represents the community, business, and government investments in Portland's vitality, livability, and diversity.
End the Sunday Parkways season by taking advantage of the route, including a walk-only trail. Whether rolling down Troy Street or exploring the SW Trails with its rolling hills and scenic views, don't forget to stop by Gabriel Park, Multnomah Village and Hillsdale Shopping Center for food, music, activities and more.
————————————
Our new Portland Events App for PDX Pipeline is now available for iPhones, Android phones and iPads!
Now, you can have all of the great Portland events from our website in the palm of your hand when you're out on the town.
–————————————
—————————————————–