From our sponsors: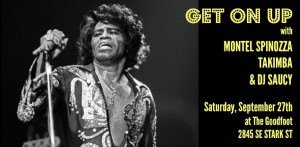 Takimba VS Spinozza & DJ Saucy
September 27, 2014
Doors open 9pm / Music at 10pm | $5 | 21+
More info: thegoodfoot.com
The Goodfoot
2845 SE Stark St, Portland, OR 97214
(503) 239-9292
TAKIMBA (formerly Melting Pot) and SPINOZZA will be at the controls and keeping it funky all night long. Blending hip hop, soul, funk, breaks & house. There's sure to be something for everybody and a night of dancing and fun for all. They'll be switching off sets throughout the night and may be rocking all 4 decks at once, looping blending and presenting you familiar cuts like you've never heard them before.
TAKIMBA draws form this unique heritage to bring a blend of dance floor heat that crosses genres and continents. Drawing from downtempo & dub to funk & breaks he draws from a wide selection to fit the dance floors temperature. Whether he's sharing the stage with the funky Fort Knox 5 or the dubby sounds of Ott. With over a decade of experience lighting up dance floors, TAKIMBA's signature blend of West Coast bass with beats and pieces of international electronica keeps your feet moving and spine aligned. When he's not traveling the globe in search of audio gems he's holding down The Melting Pot Radio Show in Portland.