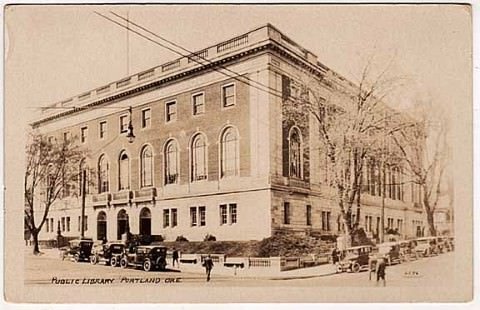 In honor of its 150th anniversary, Multnomah County Library will host a free outdoor community celebration at Central Library on Saturday, Sept. 27, from 11 am to 5 pm. The event will feature music, dance, tours and library programs for people of all ages.
FREE PORTLAND: We give out 100s of $$$ in free tickets every week including to many of the top music and art venues in Portland. Join our newsletter if you like free stuff!
———————————————
Related Portland Events & Info
———————————————
From press release: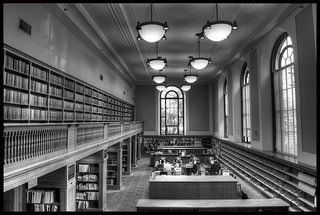 Multnomah County Library Celebrates 150 Years
September 27, 2014
11 a.m. – 5 p.m. | FREE | All Ages
More info: multcolib.org

Central Library
801 SW 10th Ave, Portland, OR 97205
(503) 988-5123
Inside the library, the day's proceedings kick off early. Enjoy Symphony Storytime with the Oregon Symphony at 10:15 am, and Central Library and eco-roof tours beginning at 10:30 am. Hands-on activities for kids begin at 11 am, and storytimes in English, Spanish, Russian, Vietnamese and Chinese begin at 11:30 am. A Café Banned conversation about censorship takes place from 3:30 to 4:30 pm. Tour the John Wilson Special Collections throughout the day.
Outside, SW Taylor Street is closed for our block party. The LoveBomb Go-Go Marching Band will get the fun started, followed by brief remarks from Director of Libraries Vailey Oehlke, Multnomah County Chair Deborah Kafoury and poet/author Matthew Dickman. As the day unfolds, the outdoor stage will feature performances from Oregon Ballet Theatre, Portland Opera, Bollywood Dreams Entertainment, Aaron Nigel Smith and the ​Bobby Torres Ensemble.
Entertainment and speakers on the outdoor stage
Formed on February 15, 1864, when Portland was a town with muddy streets and wooden sidewalks, what is now Multnomah County Library is the oldest public library west of the Mississippi River and was the first free, tax-supported library in Oregon. Today, the library is one of the nation's busiest, with 19 locations and a collection of over two million books, e-books, audiobooks, CDs, DVDs, and streaming music and video titles.
"Multnomah County Library's rich history of service over 150 years is a reflection of the value this community places on reading, learning and access to knowledge for all," said Director of Libraries Vailey Oehlke. "As the needs of our patrons shift and evolve, the library will respond and adapt to meet those needs for the next 150 years and beyond."
The library's sesquicentennial celebration in 2014 has included Valentine's Day love letters; puppet shows; crafts and a new digital collection of 150 Years of Library Memories — made possible by The Library Foundation — culminating with this community celebration.
Multnomah County Library's 150th celebration is made possible by gifts to The Library Foundation with generous support from our sponsors. In-kind food and beverage support provided by our generous community sponsors: Case Study Coffee, Salt & Straw, Elephants Delicatessen, Hotlips Pizza, Masala Pop, Portlandia Granola Company, Voodoo Doughnuts, and KIND. Thanks to TriMet for media sponsorship of the event.
About Multnomah County Library
Multnomah County Library is the oldest public library west of the Mississippi, with a history that reaches back to 1864. Today, Central Library and the other 18 neighborhood libraries that make up the library system house a collection of two million books and other library materials. As Oregon's largest public library, Multnomah County Library serves nearly one-fifth of the state's population with a wide variety of programs and services. Over 35,000 people use the library each day, either online or in person. To read more about Multnomah County Library, please visit multcolib.org.
———————————————
Related Portland Events & Info
———————————————
Our new Portland Events App for PDX Pipeline is now available for iPhones, Android phones and iPads!
Now, you can have all of the great Portland events from our website in the palm of your hand when you're out on the town.
–————————
———————————————