From our sponsors: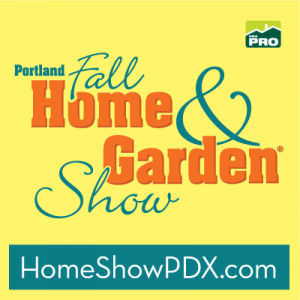 2014 Fall Home & Garden Show
October 2-5, 2014
Thursday: 11am – 8pm | Friday: 11am – 8pm
Saturday: 10am – 8pm | Sunday: 10am – 6pm
Tickets + Admission Discount: otshows.com
Expo Center
2060 N Marine Dr, Portland, OR 97217
(503) 736-5200 | More info: expocenter.org
The Portland Fall Home & Garden Show, the only Fall show of its kind in Portland, is ready to go at the Portland Expo Center – inside 2 huge halls! If you are searching for designers, experts, the remodeling pros, or that garden guru with the perfect touch, this is the consumer show for you.
Looking for what's new? Want to see inspiring gardens? Do you need to shop and compare products and services? Then you need to visit the show! The Portland Fall Home & Garden Show has the innovators and trend setters all at one place. Come to the Portland Fall Home & Garden Show, this October 2 through 5, Presented by the Professional Remodelers Organization and HBA. See www.HomeShowPDX.com for more details!
Where else can you find new exhibits, never before seen features, new ideas and the latest trends for your home? Right here at one place. You'd have to travel to dozens of stores, outlets and surf the Internet for hours to find all the retailers, services and products at this one location. The show is truly the best way to test it before you buy it and get face-to-face expert advice so – Bring your plans and dreams to the show!
The Portland Fall Home & Garden Show, the Home Builders Association and PARR Lumber are proud to present – Serving Up Style for its sixth year! This amazing designer room competition features gorgeous room creations you have to see to believe. This year 15 rooms are being presented to the public. This is the only showcase of its kind in the country and is a must-see for anyone seeking the finest in design. More than 20,000 people voted for their favorite rooms last year on Houzz.com, which will be your favorite this year? All the rooms will be posted on Houzz.com on October 2nd!
"The economy is better and home owners are ready to improve their homes," said show manager Terry O'Loughlin. "This is the place to bring your ideas, concepts and dreams and find the experts!"