From our sponsors: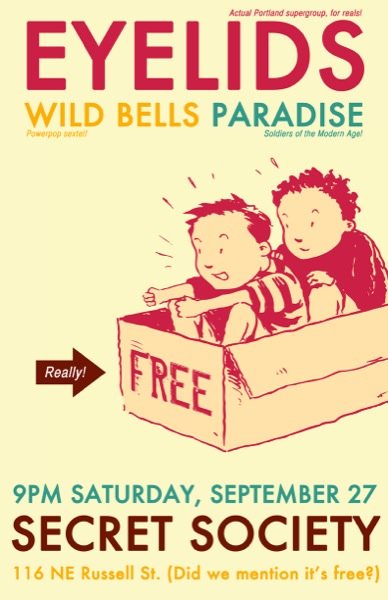 Eyelids, Wild Bells and Paradise
September 27, 2014
Doors 8:30 p.m. / 9 p.m. Show | FREE | 21+
More info: secretsociety.net
The Secret Society
116 NE Russell, Portland, OR, 97212
503-493-3600
As a fond gesture to all their friends and fans in Portland, local rockers Eyelids, Wild Bells and Paradise are playing a free show at the Secret Society on Saturday, September 27th. They encourage anyone attending the Project Pabst Festival (happening that same weekend) to come rock out with them if they are unable to get into an evening show or can't afford a festival ticket that night.
They will also be celebrating the 50th birthday of Wild Bells leader Pete Ficht, who wanted to mark the milestone with a rock & roll birthday party with some of his favorite bands.
"You know Pete, how could you not? He's that lanky guy from New Orleans, who moved here (Portland, duh!) in the mid-90s after a stellar stint down south with his group the House Levelers, a freewheeling folk-punk outfit that recorded an extremely promising record (Collectible? Sure, why not?) with Memphis legend Jim Dickinson (Hello? Big Star? Replacements, Screamin' Jay Hawkins? Any of these ring a wild bell?)
Pete's played guitar, keyboards and bass in a ton of Portland groups over the eons, a characteristic he shares with his bandmates. Noisecandy, Joy Pop Turbo, King Black Acid, the State Flowers, and Lisa & Her Kin are some of the names on his crowded resume. Worthy bands all, Pete dabbled in everything from confectionary pop to desolate, bittersweet Americana to bang-and-twang trailer-park hootenanny."
– John Chandler, from the Wild Bells bio
"It's not surprising that Eyelids sound like a sublime synthesis of Guided by Voices, Elliott Smith, and Stephen Malkmus, considering the group's members have played with all those artists. They're possibly one of the only bands whose music lives up to the "supergroup" designation." – Portland Mercury
For a new band they have quite a collective history of creating music for some of the most legendary indie songwriters ever. Not only were these three longtime Portland, Oregon collaborators the principal instrumentalists for Robert Pollard's Boston Spaceships for over five releases, but they have also worked in recent years with Stephen Malkmus, The Decemberists, Elliott Smith, Sam Coomes of Quasi, Black Prairie, Jason Lytle of Grandaddy, Loch Lomond, Damian Jurado, and Peter Buck.
So where does that leave them, us, or you? John, Chris, and Jonathan have turned inwards to their love of New Zealand guitar buzz (anything Flying Nun is their bible), their teenage l.A. paisley underground obsessions, haunts of early Athens, the shape shifting of John Cale and all things beautiful, lopsided and rock to carry further their musical thoughts. Remember when your favorite songs could be both melancholy and buoyant–the same songs could make you feel justifiably sad or make you feel incredibly happily and empowered. That's what these guys are onto. Catchy shit that worms into your brain and heart. Recording their debut album and single with Adam Selzer (The Gossip, The Breeders, Red Fang) at Type Foundry studios this Spring as well as running off to play live shows we give you fair warning.
"Wild Bells' songs combine influences from roots rock to Beatle-esque psychedelic pop to powerpop into a mesmerizing hook laden concoction. Just as the band's pop smarts and marvelous battery of songs come from every nook and cranny across the sonic spectrum, "Wild Bells," its self-titled debut album is a laser light show of esoteric daring seasoned with sincerity and superior craftsmanship." – Coast Weekend
Fresh from the land of beer, beards, and puckish hipster satire, comes Wild Bells, a thoroughly enchanting (and sorely needed) sextet of veteran musicians that thankfully fell together from a host of crucial and influential local bands. King Black Acid, State Flowers, James Angell, Big Daddy Meatstraw, Les Etrangers and The She Bee Gees are just a smattering of the notable Northwest names that helped birth this bunch.
Guitarist, songwriter, and primary singer Pete Ficht has juggled everything from folk-punk to power pop to trailer park twang during his three-decade career. Bassist/singer Sean Tichenor and keyboardist Sean Farrellwere called upon to invent mad spontaneous sounds and rigorously avoid clichés during their tenure with King Black Acid, a group that was as inventive and anti-formula as any in Northwest rock history.
Drummer Scott Pettitt brings the timekeeping precision of a studio stud, but shows time and again that he's not afraid to get his toms dirty. Former She Bee Gees singer Ellen Louise adds her own pillowy voice to an already formidable array of harmonies.
New guitarist Mark Pickett joined in early 2014. Pickett, originally hailing from Fayetteville, Arkansas is not only a formidable guitarist, but also a strong vocalist – adding a fourth lead & harmony singer to the band.
"Authentically primal, so reverential in its steady blues chug and psych-pop overcoat that is should come with a 'If found, please return to the 60s' sticker." – Mad Mackerel
On April 22nd, Paradise releases their sophomore record, "Soldiers of the Modern Age," propelled by the underground recognition of their debut, "Diary of an Old Soul." Recorded over two days in a living room at the Magic Closet on the south side of Portland, Oregon, the record is an authentic representation of Paradise's uniquely vintage-inspired sound complete with Farfisa and Hammond Organ.
"Soldiers of the Modern Age" explores the complexities of growing up sheltered in the Bible Belt of the United States. Poetically narrating a young man's adventure from boyhood to manhood, singer Steven Denekas tells his story without hesitation. Armed with only a microphone and his guitar, he relives the complications of youth in a raw, didactic and personal way.
The spirit of "Soldiers of the Modern Age" argues against monotony and routine. It's a sound that contends with the music industry standard of masking a band's true identity behind the digital machine of sound-altering options. Driven by unique storytelling and an unfettered sound, "Soldiers of the Modern Age" is a liberated exultation for the listener…and the journey is triumphant.
Passionately written and mixed with artistic freedom, Paradise hopes the blood, sweat and tears that went into the making of this record stirs the listener and calls them to join in the movement of authenticity and true presence of mind as soldiers of the modern age.