From our sponsors: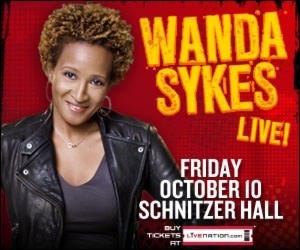 Wanda Sykes
October 10, 2014
8 p.m. | $47-74.50 | All Ages
Tickets: portland5.com
Arlene Schnitzer Concert Hall
1037 SW Broadway, Portland, OR 97205
(503) 248-4335
Wanda Sykes has been called "one of the funniest stand-up comics" by her peers and ranks among Entertainment Weekly's 25 Funniest People in America.
Sykes has been seen on several television shows over the past two years. Her Own special "Herlarious" aired in July, highlighting female comics. Last year she made a return to HBO's "Curb Your Enthusiasm", starring opposite Larry David. In 2010 she starred on her own late night talk show on FOX, "The Wanda Sykes Show". Her first HBO comedy special "Wanda Sykes; Sick and Tired" debuted in 2006 and was nominated for a Primetime Emmy. Her second HBO stand up special "I'ma Be Me" premiered in 2009 and was nominated for two Primetime Emmy awards.
Sykes was seen in the feature films "Evan Almighty", "Monster-In-Law", and "My Super-Ex Girlfriend". Sykes' recognizable voice can be heard in the animated features "Ice Age: Continental Drift", "Rio", "Over The Hedge" and "Barnyard", and on Comedy Central's "Crank Yankers" as the voice of Gladys Murphy. Sykes starred and produced the Comedy Central show "Wanda Does It", in which she tried various non-showbiz jobs. Her first book Yeah, I Said It, published by Simon and Schuster, hit bookstores in September 2004. Yeah, I Said It is a hilarious collection of essays touching on life, family and current events.
In the fall of 2003 she was seen on Fox's "Wanda at Large" which she wrote, produced and starred in. She also has a one hour Comedy Central special called "Wanda Sykes: Tongue Untied". She spent 5 years as part of the HBO's critically acclaimed "Chris Rock Show." As a performer and writer on the show, she was nominated for three Primetime Emmy's and in 1999 won the Emmy for "Outstanding Writing for a Variety, Music or Comedy Special." In 2001, she won the American Comedy Award for "Outstanding Female Stand Up Comic". She won three more Emmys, in 2002, 2004 and 2005, for her work on "Inside the NFL".
In 2010 she won a GLAAD award for promoting a good image of equal rights for gays and lesbians.