From our sponsors: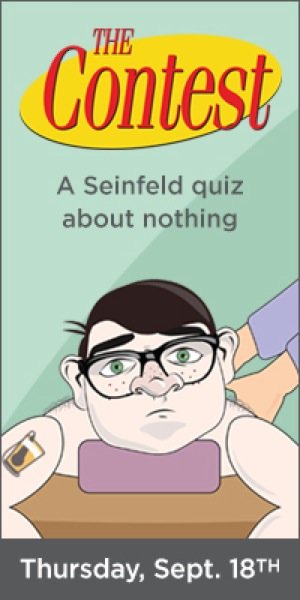 A Seinfeld Quiz About Nothing
September 18, 2014
8 p.m. | $5 per person | 21+
More info: geekswhodrink.com
Punch Bowl Social
340 SW Morrison St, Portland, OR 97204
You keep an unadorned, aluminum pole in your attic in lieu of a Christmas tree. You expect a burst of unembodied applause every time you enter a room. You still think the Benes dance is the only reliable way to attract a mate. You even spend more time watching Crackle than Netflix. Not that there's anything wrong with that.
Sure, it's been 16 years since the prison gates closed on Jerry, George, Elaine and Kramer. Children born since the air date of last episode are almost old enough to vote. But we're not about to let that stop us from celebrating what TV Guide called "the greatest television program of all time." The Contest: A Seinfeld Quiz About Nothing is back by popular demand – a real Festivus miracle.
Find some teammates and start brainstorming office nicknames (T-Bone is already taken) at our Facebook event page.
On Thursday, September 18th, we're heading down to the fourth installment of the quiz that celebrates one of the greatest fandoms in TV history. We recommend leaving your own personal Newman at home, but face painting is welcome. Yeah, that's right.
Like Joe Mayo, we've got party-goers in charge of everything, so we'll catch you if you're cheating. And the Internet wasn't exactly all the rage during the "Seinfeld" era, so keep your phones in your pockets, okay? The quiz will cover all 9 seasons and possibly some ancillary material too, so it might be time to bust out that VHS copy of Rodgers & Hammerstein's Cinderella.
Keep the big bills on the outside, because admission for this event is $5 per person. We'll allow up to 6 quizzers per team, as usual, and the winning team will take home a fat cash prize. You can buy yourself a new man fur.
The more quizzers we have, the bigger the prizes, so gather your most spongeworthy friends and join us at one of our select venues for a party to rival the Newmannium.
THEMED QUIZ FAQs
Can people under 21 play? It's up to the bar, and each venue's going to be a little different. Check with them before you make any plans.
Should I wear a costume? YES! Some of our venues may have a costume contest if there's enough participation, but that's up to the venue and host.
How do you sign up? Where do you buy tickets? You don't. Get to the quiz venue early (we recommend an hour minimum) with cash for your entry fee to ensure seating.
Is this a free quiz? No, it's $5 per person to play (bring cash!), and we'll ask you to pay for everyone on your team before we give you quiz materials.
What's the maximum/minimum players per team? There is no minimum, but if you want to win, you should have a fully staffed squad. Use our Facebook and Twitter to recruit. Team maximum is strictly six players, as always.
Can we play the quiz twice by traveling to another city? No. No. And no. First of all, that'd be impressive, because our themed quizzes are now always on one day (with the rarest of exceptions). Secondly, even if you figure out a way to cheat, don't do it.
Can minors play? That's entirely up to the venue. Check with them.
Do spectators have to pay? Yes. Yes, they do. Spectators generally have to pay for sporting events, right? This also goes for Geeks Who Drink employees that aren't working at the event and the people they make love to.
Can my dad/girlfriend/friend sit at our table and not play? No. Six people max seated at a table and all players must pay.
Can you host this at BLANK bar in BLANK city? No. We host these at venues that meet certain criteria. So, if we're not in your city, there won't be a quiz. If we're in your city, and there's no quiz, we're sorry. Feel free to let us know if you think demand is there, and maybe next time we'll get it started.
Is there a prize for second place? Nope, this is winner take all. But second place is impressive; you should be proud.
How is the prize amount determined? In most cases, the prize amount is 50% of the total take. Why not 100%? Because we have to cover our costs of producing and marketing these event quizzes.
Will BLANK TOPIC be covered? Everything is fair game. Study hard. Apply yourself. And we never give clues.
Do I need to RSVP? Seating is first-come, first-served and there are no reservations. These things quite often sell out, so get there early to guarantee a seat.
How long will the quiz last? Our regular quizzes run about 1.5-2 hours, but themed quizzes require a bit more heavy lifting in terms of logistics, scoring and extra stuff we may have planned. Average is about 3 hours.
I'd like to help promote the quiz / talk to you on my podcast / contribute some bonus prizes. Great! Contact us at marketing@geekswhodrink.com and we'll see about making that happen.
Want to see what's already been done? Check out our previous themed quizzes!