From our sponsors: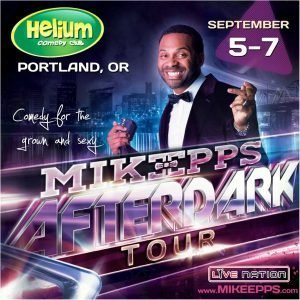 Mike Epps
September 5-7, 2014
Friday- Saturday 7:30 & 10:15 p.m. / Sunday 7 p.m. | $30-$50 | 21+
Tickets: heliumcomedy.com
Helium Comedy Club
1510 S.E. 9th Avenue Portland, OR 97214
(888) 643-8669 | More Info: heliumcomedy.com
Mike Epps has generated an extraordinary amount of buzz among his peers within the entertainment industry for being one of the funniest comic actors to emerge in the Hollywood scene as of late. 2008 proved to be an impressive year for Epps. In February, Epps appeared in the Universal Studios ensemble comedy "Welcome Home Roscoe Jenkins," opposite Martin Lawrence, James Earl Jones and Joy Bryant. In April 2008, he appeared in the indie film "The Grand," directed by Zak Penn and starring Woody Harrelson and Cheryl Hines. He can also be seen in the following 2008 releases: MGM"s "Soul Men" starring Samuel L. Jackson, Bernie Mac and Issac Hayes; Sony Pictures" "Hancock" starring Will Smith and Charlize Theron and "Open Season 2" in which he lends his voice.
When Epps isn"t filming, he is touring the country and performing his comedy act, The Mike Epps on the Edge Tour to sold-out theatres and arenas across the country. Last year Mike"s one hour comedy special, "Inappropriate Behavior" aired on HBO and was one of the network"s top-rated one-hour specials of the year, followed by its subsequent DVD release that same month. Later that fall, Mike transitioned from his HBO comedy special to hosting duties as the new host of HBO"s Def Comedy Jam. Since 2000, Epps" comedic film roles have exploded. In
March 2002 Epps was seen starting opposite Ice Cube in New Line Cinema"s "All About the Benjamins." Epps also reprised his role as Day-Day in "Friday After Next," the third installment of the "Friday" series. In 2003, Epps appeared in the Paramount comedy, "The Fighting Temptations" alongside Cuba Gooding Jr. and Beyonce Knowles, and in 2004 he played the comedic relief as a loud mouthed garbage manin Fox Searchlight"s "Roll Bounce," a film set in the late 1970s about the rollerskating lifestyle which also starred Bow Wow, Chi McBride, and Nick Cannon. Mike then went on to play a pivotal role in the Focus Features romantic comedy, "Something New," starring Sanaa Lathan as a black career woman who unexpectedly finds love with a white working-class man, played by Simon Baker. Earlier that same year, Epps starred in two classic remakes " first Epps was seen in Columbia Pictures" well received, "Guess Who", starring Ashton Kutcher and Bernie Mac which was released in March of "05. He then starred in Paramount Picture"s remake of "The Honeymooners," in which he played comedic legend Ed Norton, alongside Cedric the Entertainer as Ralph Kramden. A native of Indiana who has steadily climbed his way up the stand-up comedy ranks for the last seven years, Epps" comedic talent was recognized by a national audience in 1995 when he appeared on the Def Comedy Jam tour and appeared on HGO"s Def Comedy Jam broadcasts. Epps moved to Los Angeles after his successful performance at the 1999 Laffapalooza festival in Atlanta. During his performance at LA"s Comedy Store, Epps caught the attention of Ice Cube. This led to him being cast int he co-starring role of Day-Day in his feature film debut, 2000″s hit comedy "Next Friday." Epps has also appeared in "Bait" with Jamie Foxx, "How High" with Method Man and Redman and was the voice of Sonny in "Dr. Dolittle 2."