From our sponsors: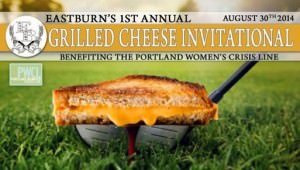 Portland Grilled Cheese Invitational
August 30, 2014
5 p.m. | $20
More Info: theeastburn.com
East Burn
1800 East Burnside Street Portland, OR 97214
(503) 236-2876
Capping off a month long grilled cheese fundraiser sparked by EastBurn restaurant owner Mike Bender's reply to a sexist Yelp review, 9 local restaurants will put forth their best grilled cheese to raise funds for the Portland Women's Crisis Line.
The event will be held at EastBurn, a neighborhood public house in Portland, Ore. The invitational will be laid out like a golf course throughout EastBurn with guests receiving a score card to rate grilled cheeses based on Taste, Originality, Presentation and Best Overall. The 9 local restaurants competing in the event are Bazi Bier Brasserie, The Cheese Plate, Migration Brewing, Big-Ass Sandwiches, Tabor Tavern, Gil's Speakeasy, Meat Cheese Bread, B Squared Wine Bar and Brunch Box.