From our sponsors: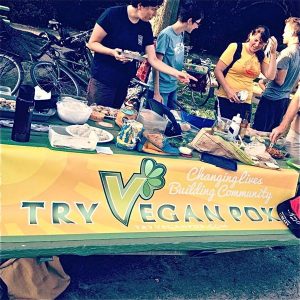 Try Vegan Week 2014
August 9-17, 2014
Most Events are FREE
More info:  tryveganpdx.com
Try Vegan Week (TVW) is an annual event that is the foundation of TVPDX. This week long series of events is where TVPDX began. The week includes workshops, speakers, dine-outs, and mentoring. There will be events for vegans, and the vegan curious (vegetarians and omnivores). Invite your friends!
The week concludes with a Vegan Prom, that will include music, photos, costumes, and community.
*All events are free to attend with the exception of Prom which is Try Vegan PDX's biggest annual fundraiser.*
Events
Saturday, August 9
10:00am

Pickling and Fermentation class + Store Tour

11:30am

Store Tour & Grab a Bite

12:45pm

Volunteer at Oregon Food Bank!

7:00pm

Dinner & Bar Crawl
Sunday, August 10
2:00am

Dinner & Bar Crawl

11:30am

Super-Special Sushi Lunch

3:30pm

Mask-making Party

6:00pm

Vegan Wine & Cheese
Tuesday, August 12
6:30pm

Clear Conscience: Transitioning Away from Omnivore to Plant-Based Living

9:00pm

Perseid Meteor Shower Watch
Wednesday, August 13
6:30pm

Dinner at Proper Eats & Recipe Exchange
Thursday, August 14
7:00pm

Food Fight! presents "Uncle Buck" benefit for Green Acres Farm Sanctuary
Friday, August 15
6:30pm

Intersectionality of Veganism and Social Justice Issues
Saturday, August 16
10:00am

Soap Box Derby Sandwich Potluck Picnic

10:00am

Work Party at Green Acres Farm Sanctuary

3:00pm

Cheap and Easy Vegan Cooking Demo: The Best Kale Salad Ever!

8:00pm

Vegan Prom: Masquerade!

11:00pm

Vegan Prom After Party