From our sponsors: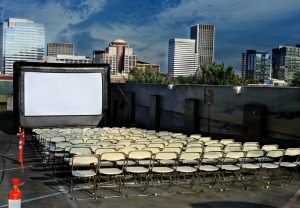 Top Down: Rooftop Cinema
Thursdays, July 24-August 28, 2014
8 p.m. | $11 General / $10 Students | All Ages
Tickets/More info: nwfilm.org
Hotel deLuxe
729 SW 15th Ave Portland, OR 97205
(503) 219-2094
Join us atop the Hotel deLuxe's parking structure at SW 15th and Yamhill for our 10th annual program of cinema under the stars. Doors open at 7 PM with food and beverages available for purchase from Gracie's Restaurant, Sierra Nevada Brewing Company, and Honest Tea. The music begins at 8 PM, and the films begin around dusk.
Entry for advance ticket holders is guaranteed until 8:30 PM. Advance tickets ensure that you will not have to wait in the ticket purchase line but do not guarantee entry after 8:30 PM. A limited number of chairs are available on a first-come, first-serve basis, so feel free to bring a chair, pillow, or blanket, along with a light sweater or jacket. Advance ticket holders who arrive after 8:30 PM but are not admitted to the screening (in the case of a sell-out) may exchange their tickets for another Top Down screening. There are no refunds or exchanges for arrivals after the film begins (c. 9 PM) or for entirely missed screenings. We appreciate your understanding.
2014 Lineup
Thu, Jul 24, 2014
at 8 PM

NOTORIOUS

DIRECTOR: ALFRED HITCHCOCK
US, 1946
In this Hitchcock classic, a never-more-gorgeous Ingrid Bergman plays Alicia Huberman, the daughter of a well-known Nazi, reluctantly enlisted by FBI agent Devlin (Cary Grant) to spy on her father's former colleagues now working in Brazil. Despite his feelings for her, the ever-professional Devlin asks her to seduce Sebastian (Claude Raines), leader of the Nazi group. Crushed by what she perceives as Devlin's rejection, Alicia marries Sebastian and goes to work uncovering the Nazi smuggling ring operating out of Sebastian's house—but at what cost to herself? "Frank, tense, well-acted, with an amazingly suspenseful climax (and one memorably passionate love scene)."—Leonard Maltin. (101 mins.)

Music by St. Even.


Sponsored by Chipotle Mexican Grill.

Thu, Jul 31, 2014
at 8 PM

BOTTLE ROCKET

DIRECTOR: WES ANDERSON
US, 1996
In Wes Anderson's first feature film, Anthony (Luke Wilson) "escapes" from a voluntary mental hospital with the aid of his childhood friend Dignan (Owen Wilson). Dignan wants to impress local hood Mr. Henry (James Caan) by robbing a bookstore and getting out of small-town Texas and drags Anthony and their wealthy friend Bob Mapplethorpe (Robert Musgrave) along with him. On the run, they end up at a roadside motel where Anthony falls for maid Inez and causes a rift between his cronies. But one final job, a heist at a local cold storage facility, makes them all realize that they need each other more than they thought. (91 mins.)

Music by The Bubble Cats

Sponsored by 94/7 FM KNRK. Band sponsor: Vortex Magazine.

For more Wes Anderson-related films, check out the Northwest Film Center's series Wes's World: Wes Anderson and His Influences.

Thu, Aug 7, 2014
at 8 PM

THE 5,000 FINGERS OF DR. T.

DIRECTOR: ROY ROWLAND
US, 1953
The magnificently eccentric mind of Theodor Geisel (a.k.a. Dr. Seuss) broke its children's literature leash to conjure up this outrageous delight. Young Bart Collins, living with his widowed mother, detests the piano lessons administered by tyrannical Dr. Terwilliker. Cue a dream sequence in which Bart is held captive with 499 other boys at the Terwilliker Institute, where they are all forced to practice piano 24 hours a day. Dr. T. has built a serpentine piano so large that it will take all their 5,000 fingers to play it, and the premiere concert is just days away! This cold war nightmare is a wild ride through childhood fears in a wigged-out world only Dr. Seuss could design. (89 mins.)

Music by Grand Style Orchestra

Band sponsor: KBOO.

Thu, Aug 14, 2014
at 8 PM

VANISHING POINT

DIRECTOR: RICHARD C. SARAFIAN
US, 1971
Barry Newman plays the vaguely disillusioned antihero Kowalski, a solitary driver for a cross-country car delivery service. He picks up a roaring 1970 Dodge Challenger in Colorado and takes a bet to deliver it in San Francisco in less than 15 hours. With a handful of uppers, the pedal to the metal, and a blind DJ named Soul (Cleavon Little) rooting him on over the airways, Kowalski screams down the highways, encountering a snake handler, gay hitchhikers, a naked woman riding a motorcycle, and plenty of cops. Lean on dialogue and heavy on squealing tires, this cult classic evokes a specific time and cultural mood—as DJ Soul says, Kowalski is the "last American hero because he is the last free soul on the planet." (99 mins.)

Music by xray.fm

Sponsored by Yelp! Portland. Music sponsor: xray.fm.

Thu, Aug 21, 2014
at 8 PM

EDWARD SCISSORHANDS

DIRECTOR: TIM BURTON
US, 1990
Tim Burton's artistry is in full bloom in this enchanting tale of young Edward (Johnny Depp)—the unfinished creation of a mad scientist (Vincent Price, in his final screen role), who is left with scissors as fingers. Avon lady Peg Boggs (Dianne Wiest) wanders a bit off her route one day, discovers his castle, and takes him home, where he meets and falls for her daughter Kim (Winona Ryder). A whiz with topiary, Edward is initially an exotic curiosity, but soon the denizens of this suburbia of Easter egg-colored, ranch-style homes tag this sweet boy as a monster and the persecution begins. Can young love survive? (105 mins.)

Music by Alameda


Sponsored by Artists Repertory Theater. Band sponsor: Vortex Magazine.

Thu, Aug 28, 2014
at 8 PM

THE KING OF COMEDY

DIRECTOR: MARTIN SCORSESE
US, 1982
Rupert Pupkin (Robert De Niro) is a delusional schmuck living with his mother and a life-size cardboard cutout of Liza Minnelli, practicing to become a famous stand-up comedian. He leaves his basement set to stalk Johnny Carson-like talk show host Jerry Langford (icily played by Jerry Lewis), in the hopes of securing a spot on his show. Willing to go to great lengths to break into show biz, Pupkin enlists his madcap friend Masha (Sandra Bernhard) to help him kidnap Langford. Darkly hilarious, THE KING OF COMEDY is considered by many to be one of Scorsese and De Niro's finest and most overlooked works. (109 mins.)

DJ set by Ghost Capital.


Sponsored by PDX Pipeline.
———————
Please, no pets or outside food or drink. Day-of weather updates at nwfilm.org.
Thanks to our sponsors: Hotel deLuxe, Peter Corvallis Productions, Honest Tea, Sierra Nevada Brewing Company, Car2Go, Portland Mercury, Yelp! Portland, KIND Healthy Snacks, PDX Pipeline, Artslandia and 94/7 FM KNRK.
———————————————
Our new Portland Events App for PDX Pipeline is now available for iPhones, Android phones and iPads!
Now, you can have all of the great Portland events from our website in the palm of your hand when youíre out on the town.
–————————
———————————————