From our sponsors: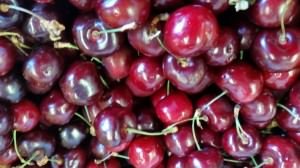 2014 Hood River County Cherry Celebration
July 19-20, 2014
9 a.m. – 6 p.m.
More info: packerorchardsandbakery.com
Packer's Orchard & Bakery
3900 Highway 35, Hood River, OR 97031
541-234-4481
It's the time of year when businesses throughout the Hood River Fruit Loop share the bounty of the Hood River Valley; starting with the annual Cherry Celebration this July 19 & 20.
Packer's Orchard & Bakery is a favorite stopping place and key location for visitors hungry to taste the best of this celebration. In honor of the event, Packer's will be offering fresh cherries by the pound, cherry pie, cherry jam, cherry salsa, and cherry cookies — and a few other cherry surprises. All this in addition to their usual fare that includes jams, jellies, pepper jellies, pies, empanadas, ice cream, smoothies, and lots and lots of cookies. (In fact, Packer's bakes over 12,000 cookies a month for its happy visitors.)
Established in 1924, Packer Orchards is a fourth-generation sustainable family farm located in Hood River, Oregon. What began as a small crop of apples and pears slowly expanded to 100+ acres of apples, pears, cherries, peaches, apricots, prunes, and nectarines.
In 1992, Tammi Packer started the bakery in her home kitchen making cinnamon rolls to sell at the local farmers market. Shortly thereafter, Tammi opened the fruit stand offering fruit from the orchards along with those (now famous) cinnamon rolls. It didn't take long before the ideas started rolling in and Tammi began expanding her offerings to include a wide variety of products that were so popular she opened an online store.
Now what began as cinnamon rolls and pears has transformed into a bakery filled with giant cookies, 100+ varieties of jam, delicious fruit pies, and of course, the very best Hood River fresh seasonal fruit. Packer Orchards & Bakery is located at 3800 Hwy 35 in Hood River, OR (7.5 miles up Hwy 35 from I-84).