If there aren't enough big Portland events for you this weekend, how about a free downtown concert around every corner? That is what you get with the Big Busk, which returns on Saturday. The first set will start at Noon, the last at 6PM. It's mostly up and down Morrison and Yamhill.
There is an a $5 afterparty at Kelly's Olympian, starting around 9p. So far, the bands playing the afterparty are Toucan Sam and the Fruit Loops, followed by San Lorenzo. You can also view many pictures from 2011 on Flickr here.
FREE PORTLAND: We give out 100s of $$$ in free tickets every week including to many of the top music and art venues in Portland. Join our newsletter if you like free stuff!
———————————————
From website: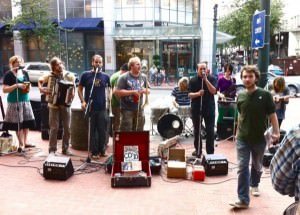 The Big Busk
July 19, 2014
Noon – 6 p.m. Followed by After Party (21+) at 9 p.m.
More info: thebigbusk.info | After Party info: Facebook
The Big Busk is a new music festival for downtown Portland.
These are the ingredients:
a deep and diverse pool of creative and talented musicians
a beautiful, human-friendly downtown that consistently ranks among the most walkable in the nation
a really crappy economy
The idea is, for an entire afternoon, to saturate downtown with music. All kinds of music. Up and down Broadway, the transit mall, the park blocks to the esplanade.
There is no stage, but every corner is a stage. There is no audience, but everyone is the audience. There is no admission fee, but we trust attendees tip generously.
So it's kind of an experiment. It's also kind of an art project and a tongue-in-cheek celebration of creative defiance. Good music for tough times.
Busking.
To busk is to play music or otherwise entertain people in a public place for tips.
Many musicians get their start by busking, and some famous musicians take to the streets just for fun. When he was young, Beck busked his way around Europe and L.A. Chrissie Hynde of The Pretenders asked The Violent Femmes to open for them after seeing them busking in Milwaukee. Bob Dylan, Joan Baez, Simon and Garfunkel, Louis Armstrong, B. B. King, Norah Jones, Billie Holiday, Bon Jovi, Sting and Lou Reed have all played their music on downtown streets. In 2007, Joshua Bell played in the subway of Washington, D.C.
Buskers are a big part of what makes urban areas so fun. They invite us out of our iPods. They help make downtown beautiful.
In short, it's a respectable way to live one's art.
No permits are needed to busk in Portland. You should have no trouble from business owners or the police as long as you abide by the Street Musician Partnership Agreement and the sidewalk obstruction laws.
Performers (lineup could change)
Want to be a part? Get in touch!
———————————————
Our new Portland Events App for PDX Pipeline is now available for iPhones, Android phones and iPads!
Now, you can have all of the great Portland events from our website in the palm of your hand when you're out on the town.
–————————
———————————————