From our sponsors: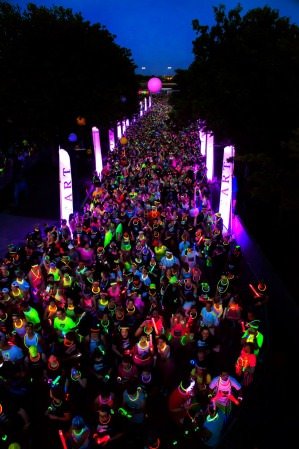 2014 Electric Run Portland
October 4, 2014
$49-74 | All Ages
More info: electricrun.com/portland-or
Get FREE LED Shades w/ Code PDX
Portland International Raceway
1940 North Victory Boulevard, Portland, OR 97217
Come have fun with us in a different world! Along the 5K route, music will pump and lights will dance, creating an electric wonderland that will keep you energized and moving to the beat. You'll run, walk, and dance through distinct lands with lights and music custom-mixed to match the mood of the lighting elements.
What to Wear
We invite you to bring your creativity, smile, laugh, and leave dull at home. It is the collective light and creativity of the thousands of participants that brings this event to life! You are coming to have fun and experience something magical and different. Look the part! If it is bright-colored, blinks, shines, glows, or looks like something from another planet, it's perfect! Put it on and come celebrate with us!
Our Worlds
Our Electric Run events are as unique as each city. Since no two venues or communities are the same, every race experience is tailored to the location and crowd hosting us that night. With your city as a canvas, we use our palette of bright lights to paint the night and create a vibrant atmosphere full of color, sound and energy. Depending on where you attend an Electric Run event, you will witness between five and seven of the following themed Course Lands:
Electro Rainforest
Rainbow Road
Sweet Tooth Acres
Under the Sea
Rockstar Powerhouse
Electric Avenue
Delta Station
Individuals and Teams
Participate as an individual, or gather your friends together and participate as a team of 4 or more! Register as a Team and save! (lower team price does not apply to promotional pricing).
The Goods
In addition to an incredible event with a stunning one-of-a-kind light show, participants will receive these high quality items:
High quality cotton-polly event shirts custom designed by NEFF.
LED bracelet
Glow sunglasses
Finish Celebration
The lights and sounds will kick up a notch as you cross the finish line. Neon trees, glowing arches, lasers, glowing beach balls and other lighting effects will all dance to the music celebrating your return. Stay and dance as DJs mix the latest tunes from the main stage.
All Ages
We are passionate about creating an experience that is fun, energizing, and beautiful. And we believe everyone, no matter their age, should be able to experience incredible lights and music in an environment that is healthy and happy. Illegal drugs are not tolerated at Electric Run.
Alcohol is served to those 21+ at most Electric Run Finish Celebrations, but we ask that you drink responsibly. We want to keep the atmosphere fun and healthy.