From our sponsors: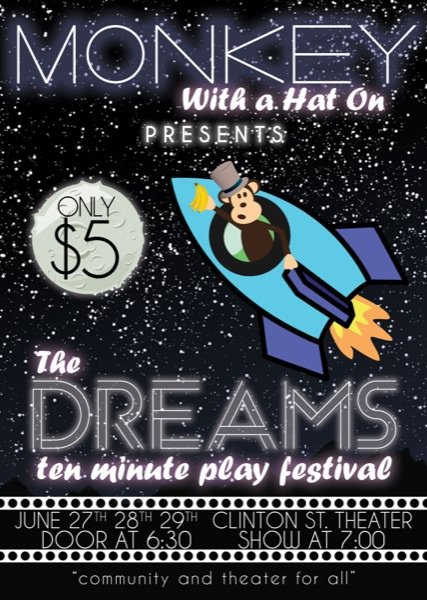 The Dreams 10 Minute Play Festival
June 27-29, 2014
Doors 6:30 p.m., Show 7 p.m. | $5 | All Ages
More info: monkeywithahaton.com
The Clinton Street Theater
2522 SE Clinton St, Portland, OR 97202
(503) 897-0744
The Portland Ten Minute Play Festival is a seasonal, collaborative event created by Monkey With a Hat On. The festival features ten locally written 10 minute plays that are all performed each night. Each play features different writers, directors, and actors. And then when you add in the stage crew, lights, sound, and producers, many people are involved! The festival is a seasonal opportunity for Portlanders to share moments and experience a wide range of stories in one night. It's a fun, festival atmosphere!
For our tenth festival, all plays are Dream themed! The plays range in tonalities, styles and the interpretation of the theme. Think: a terrorizing sandman, two punk kids on a roof-top, mythological characters that control our dreams, a dream character gaining consciousness, Lewis and Clark's dream of Portland, a man trying to remember his dream, and more!
Monkey With a Hat On is a unique theater company. We involve the entire willing Portland community. We are theater for and by the masses. We are theater for the young at heart.
If you haven't been to a Ten Minute Play Festival yet, this video gives an idea of what we do. It's a KGW live feature that was done for the Mythology Ten Minute Play Festival last year.