From our sponsors: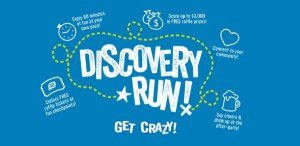 Tualatin Road Runner Sports Discovery Run
4th Thursday of Every Month
5:30 p.m. | FREE | All Ages
Registration + Details: roadrunnersports.com
Road Runner Sports Tualatin
7063 SW Nyberg Street, Tualatin, OR 97062
You're in for one mind-blowing evening of FREE, prize-tastic fitness FUN when you join runners LIKE YOU for the nation's BIGGEST group fun run at your Tualatin Road Runner Sports retail store!
Enjoy 60 minutes of FUN as you run (or walk) at your own pace & collect FREE raffle tickets along the way. Then, toast to your adventure & meet new friends while scoring up to $3,000 in FREE raffle prizes!
So, grab your friends, family & coworkers & join the ADVENTURE… RSVP TODAY!
HERE'S THE LOW-DOWN!
5:30-6:30PM ARRIVE EARLY TO SIGN-IN & SHOP
6:30-7:30PM Run or Walk to Fun Checkpoints at Your Own Pace
7:30-8:00PM Win FREE Raffle Prizes & Start the Party
8:00PM-? Keep the Fun Going at Your After Party (announced at event)
* Register by noon on event day to receive a FREE raffle ticket, FREE BEER TICKET and GPS-guided map emailed to you on event night… Cheers!
* Score EXTRA raffle tickets when you Like us on Facebook & check out the secret checkpoint on event night!