From our sponsors: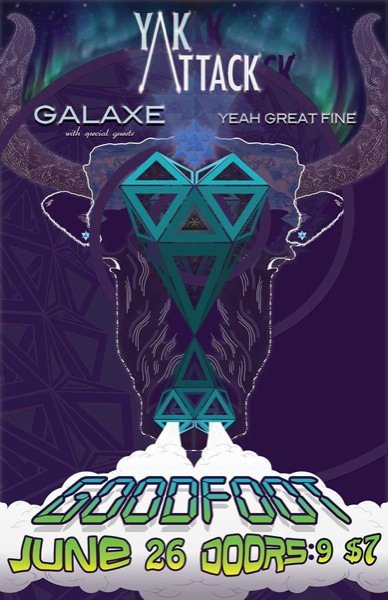 Yak Attack w/ Galaxe & Yeah Great Fine
June 26, 2014
Doors open 9pm / Music at 10pm | $7 | 21+
More info: thegoodfoot.com
The Goodfoot
2845 SE Stark St, Portland, OR 97214
(503) 239-9292
Yak Attack is real, organic electronica. Rowan Cobb (Alpaca!, Giraffe Dodgers), Dave Dernovsek (Manimalhouse, Emulator) and Devin Weston (Planetjackers) have combined forces to create a full, lush, danceable sound far beyond what most trios can produce. Using live loops, well-placed samples, thick grooves, and expansive soundscapes, Yak Attack keeps the dance party at full blast!
Nick Werth, drummer of Scott Pemberton Trio, brings his passions for Hip Hop and electronic music together with his solo project, Galaxe. Live beats performed on a space age xylophone (Xylosynth), coupled with featured local musicians and special guests make this a one-of-a-kind dance party!
Yeah Great Fine is a party/math/rock extravaganza! The Portland Mercury says YGF's "an immensely gifted Portland band that balances tricky rhythms and techniques with catchy, feel-good sounds." After a year-long hiatus, lead vocalist Jake Hershman has moved back to PDX. This will be YGF's first show back!