We took this picture during a great SE Portland Sunday Parkways a few years back. The event continues for the 2014 season on June 22. Highs are expected to be in the 70s, so there'll be lots of people out. Even if you don't bike, you can walk and enjoy the activities, parks, and closed off streets.
————————————
Related Portland Events and Giveaways:
Summer Events Guide:

Ultimate 2014 Portland Summer Events Calendar: Festivals, Concerts, Movies, Street Fairs, Farmers Market, & More
Win Tickets (

$30

): A Walking Tour of Portland's Sinful Past – Shanghaiers, Saloons & Skullduggery | Kick A** Oregon History Historian Doug Kenck-Crispin (June 21)
Win Beer Package (

$220

): Portland's 2014 North American Organic Beer Festival @ Overlook Park | (NAOBF), FREE, Music, Food, 50+ Beers, 18,000+ Attendees (June 26-29)
Outdoor Music Fest: What The Festival @ Wolf Run Ranch in Dufur | The Glitch Mob, Washed Out, Pool Party & More! (June 19-22)
————————————
2014 North Portland Sunday Parkways Info & Route Map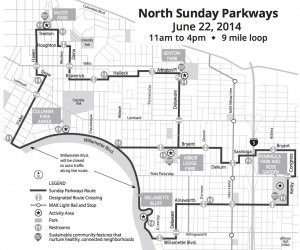 2014 North Portland Sunday Parkways
June 22, 2014
11 a.m. – 4 p.m | More info: portlandoregon.gov
Portland Sunday Parkways promotes healthy active living through a series of free events opening the city's largest public space – its streets – to walk, bike, roll, and discover active transportation while fostering civic pride, stimulating economic development, and represents the community, business, and government investments in Portland's vitality, livability, and diversity.
Cruise along the scenic Willamette Boulevard, and then glide towards Peninsula, Arbor Lodge, Kenton, Columbia Annex and McCoy Parks to enjoy an array of activities, food, music, vendors and fun. See highlights brochure.
YOU can add to the fun factor – wear a costume, play music, have a dance party or a theme ride. And if you live along the route, host an activity or entertainment in your front yard!
————————————
Our new Portland Events App for PDX Pipeline is now available for iPhones, Android phones and iPads!
Now, you can have all of the great Portland events from our website in the palm of your hand when you're out on the town.
–————————————
—————————————————–
Northeast Portland Sunday Parkways
July 27, 2014 ~ 11am-4pm (8 miles)
Explore the Northeast Neighborhood Greenways while you make your way around the Northeast Portland route. Don't forget to stop by Woodlawn, Alberta and Fernhill Parks where a collection of fun activities, festive music, and delicious food awaits you.
Southeast Portland Sunday Parkways
August 24, 2014 ~ 11am-4pm (7 miles)
Spend a warm summer day walking and rolling around the Southeast Sunday Parkways. While you're at it, take a few moments to explore Laurelhurst, Colonel Summers and Ivon Parks to grab a bite to eat, listen to tunes, and join some activities.
Southwest Portland Sunday Parkways
September 28, 2014 ~ 11am-4pm (6 miles)
End the Sunday Parkways season by taking advantage of the route, including a walk-only trail. Whether rolling down Troy Street or exploring the SW Trails with its rolling hills and scenic views, don't forget to stop by Gabriel Park, Multnomah Village and Hillsdale Shopping Center for food, music, activities and more.