Portland Pride Parade | Photo by drburtoni
The 2014 Portland Pride Festival is June 14-15 at Waterfront Park. The Portland Pride Parade begins June 15 at 11AM at Burnside and NW Park. Below is the Pride Parade route map, info, and many more pictures from past years.
———–
Related Events and Info:
———————————-
Portland Pride Parade route map, info, and more pictures:
Portland Pride Parade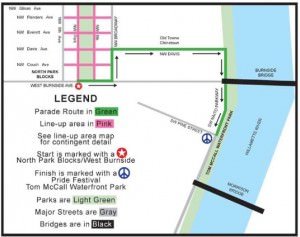 June 15, 2014 | 11AM | More info: pridenw.org
The 2014 Pride Parade will use the following route. Please be advised that adjustments may occur to this route as deemed necessary by the Pride Northwest Board of Directors. All official participants for the parade must display an official Pride Northwest Parade logo or they may be removed from the Parade, this includes all vehicles in every contingent, including Dykes on Bikes.
————————-
Portland Pride Festival
2014 DATES & HOURS OF OPERATION:
– Saturday, June 14, 2013 from Noon until 6pm
– Sunday, June 15, 2013 from Noon until 6pm
Exhibitor booths are open from Noon until 6pm on Saturday and Sunday. Vendor load-in is from 9am-11:30am. Vendor 'load out' shall not begin before 6pm on Saturday and Sunday.
ADMISSION COST:
$7 Donation – purchase VIP pass or use exact change for faster entry. Pride Northwest is committed to providing an open, accessible festival for the entire LGBTQ community and our friends, families and allies. We ask for a $7 donation to help cover the costs of providing this valuable and necessary community gathering. But we do not turn away anyone for their inability to pay. You may donate as much as you can toward the festival operations.
FOOD & BEVERAGE SERVICE:
There are a number of diverse, renowned food, snack and beverage vendors on-site this year. No food or beverages may be brought onto the festival grounds. If you plan on visiting the alcohol service area, you will need to present a legal ID.
ACCESSIBILITY:
The Portland Pride Festival at Tom McCall Waterfront Park is accessible by those using a wheelchair or other mobility devices. We have also provided accessible portable bathroom facilities on-site.
HOW TO GET TO THE FESTIVAL:
The festival is held at Tom McCall Waterfront Park along Naito Parkway in Downtown Portland between SW Pine Street and The Morrison Bridge.
———————————
Our new Portland Events App for PDX Pipeline is now available for iPhones, Android phones and iPads!
Now, you can have all of the great Portland Events from our website in the palm of your hand when you're out on the town.
——————————————
—————————————————–
More Portland Pride Parade Pictures:

Portland Pride Parade
Photo by Zervas

Photo by evilkewpie

Photo by Zervas

Photo by focusthelens

PGE
2007 Portland Pride Parade
Photo by Julian Chadwick / PDX Pipeline

Photo by this.nik

Photo by Zervas

Photo by Zervas

Photo by focusthelens