From our sponsors: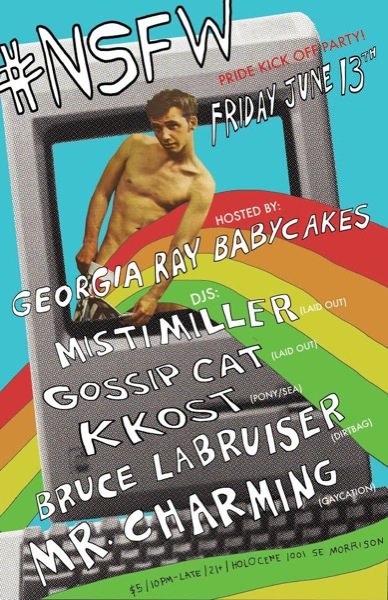 Holocene's Portland Pride Week 2014
June 13 & 15, 2014
More info: holocene.org
Holocene
1001 SE Morrison St, Portland, OR 97214
(503) 239-7639
—————
#NSFW (Pride Kickoff)
Friday | 10 p.m. | $5
Tickets: holocene.org
holocene's two queer nights GAYCATION! and Laid Out are in love and having a gayby for pride 2014: #NSFW
the theme: WE JUST WANNA PARTY.
#NSFW is yr pride kick off. it's gonna be a wild night of dancing and general debauchery open to all of Portland's beautiful queer people.
the one and only GEORGIA RAY BABYCAKES is yr hostess and social lubricant for the evening AND we've got a real cute line up of DJs for you all:
DJ BRUCE LaBRUISER (Dirt Bag) –> https://soundcloud.com/brucelabruiser
DJ KKOST (Pony / Seattle)
DJ MISTIMILLER (Laid Out) –> https://soundcloud.com/mmillerpdx
DJ MR CHARMING (Gaycation!) –> https://soundcloud.com/mr_charming
DJ GOSSIP CAT (Laid Out/ Bridge Club) –> https://soundcloud.com/gossipcat
—————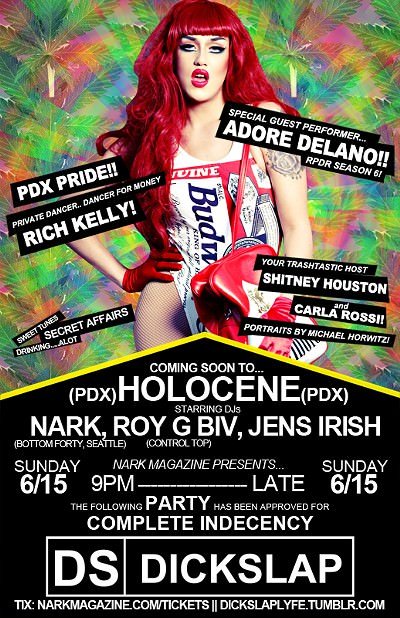 2014 Dickslap
Sunday | 9 p.m. | $12
Tickets: strangertickets.com
DICKSLAP! A let loose scenario for boys and girls and more boys… a wonderland full of free beard rubs, slick hands and magical dancing gogo men, where the whiskey shots go down easy and the sounds of the discotheque parade around and intoxicate you until you finally wake up from the dream, potentially next to someone you don't remember. Got it?
Special guests, ADORE DELANO of RuPauls Drag Race Season 6, woofy dancer boy Rich Kelly (richkelly.tumblr.com), Nark (Seattle, Bottom Forty), Roy G Biv (Control Top), Jens Irish and portraits by Michael Horwitz.
Hosted by Shitney Houston and Carla Rossi!