From our sponsors: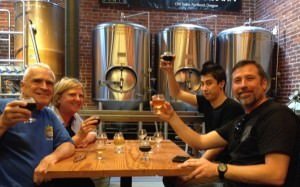 BeerQuest Father's Day Beer Tours
June 13 – 15, 2014
2 & 7 p.m.| $40 | 21+
Tickets: beerquestpdx.com
Don't know what to get your dear old dad for Father's day?
Take him out for a BeerQuest Walking Tour and together you'll taste beer at several of Portland's best bars and breweries. He'll love sampling frothy craft brews and learning all about beer and Portland's past.
BeerQuest is offering two Father's Day Tours, the Historic Brewery Tour and the Haunted Pub Crawl. Or buy him a gift certificate that's good anytime.
Haunted Pub Crawl – 7PM, $40
Meet the ghosts that haunt Old Town, and journey back in time to Portland's early days, when the lawless city was filled with shanghaiing, murder, brothels, drug dens, corrupt police and more.
Expert guides tell fascinating stories about Shanghaiing, and the notorious Shanghai Tunnels, one of America's most haunted places.
Historic Brewery Tour – 2PM, $49
Explore Old Town's best bars and breweries and learn about Portland's beer history on this walking tour. Highlights Include: 12 beer samples from 3 local breweries, Portland's oldest bar, stories from the "Wild Days", a brewery tour and more.
Space is limited, so sign up today at www.beerquestpdx.com
Because you love your Dad … and he loves beer.