From our sponsors: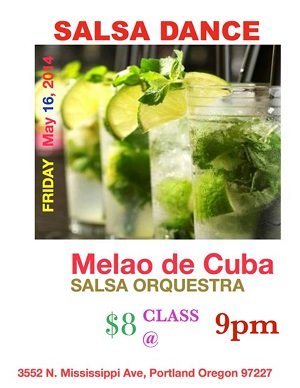 Salsa Dance Spectacular w/ Melao de Cuba
May 16, 2014
8 p.m. | $8 | 21+
Tickets: brownpapertickets.com
Mississippi Pizza Pub
3552 North Mississippi Avenue, Portland, OR 97227
Salsa music is exemplary of all things Cuban, in the sense it is warm, sensual and easygoing. Use the conga, horns and cowbell rhythms to take your hips for a journey. Just as molasses is transformed into rum, one of the oldest spirits of the world, Melao de Cuba transforms elements of Afro-Cuban and Spanish music into vibrant, danceable music that lifts your spirit and brings joy to your heart.
Solid Salsa inspired beats with Afro-Cuban Rhythms that makes the audience get up and dance! A gozarrrrrr!
Melao de Cuba 100% Salsa Orchestra is a salsa band with a fierce horns section!!
Virginia López, Lead Vocals, percussion
Mieke Bruggeman, Vocals, Baritone Sax
Thomas García, Tenor Sax
Joel Riddell, Trumpet
Levis Dragulin,Trumpet
Matt Warming, Trombone
Tony Gonzalez, Bongos & Salsa Dance Class
Art Alexander, Piano
Bryan Hopkins, Bass
Jay Machamer, Congas
Mimy Fikira, timbales
Salsa Dance Lesson with Tony Gonzalez, from Cuba, at 9pm included in the admission price.